"… life, literature, and the pursuit of happiness in the famous Troubadour cellar-club, London's liveliest and best–loved poetry landmark since the 1950s …"
Former US Poet-Laureate Billy Collins on the Troubadour's 60th birthday as a writer's café…
           Thanks to the zeal of its many managers and promoters, the Troubadour has evolved over its 60 year history from a hidden-away beatnik coffee house to a world famous center for the performance of music and poetry. Its walls have become storied, and if only the place had halls, they would be hallowed. The Troubadour was the scene of the first reading I gave in the UK, and I count myself among the long line of poets who are eager to return and darken its doorway again.
welcome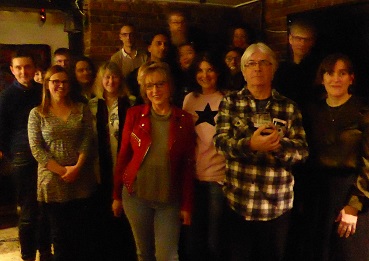 from Coffee-House Poetry organiser, Anne-Marie Fyfe
Theatre-of-the-Absurd may have come & gone but Poetry-of-the-Even-Absurder took to last night's Troubadour cellar-club stage in two mesmerising & subtly strange sequences: twenty-one first half poets with their own unusual angles on the everyday from the slightly askew to the wonderfully weird, followed by a spontaneous symphony with our four masters of the art of surprise, exponents of the unexpected, observers of the distinctly odd, a sequence that dazzled our packed audience.
What amazing turnouts for poetry this 21st Troubadour autumn but with more to come including — the moment you've all been waiting for — our gala prize-night festivities in which we get to hear from our Troubadour International Poetry Prize judges, Michael & Imtiaz, (see next event, right), on just how tough they've found choosing from so many great prize submissions, get a chance to listen to their own readings and enjoy a touch of classical cool from the fabulous Manning sisters &, of course, to celebrate the as-yet-unrevealed (as-yet-undecided!) winners of our 2017 Troubadour International Poetry Prizes.
Always a high-spot in the literary world's social calendar! Book now via PayPal on our readings page.
See you there!
readings - oct-dec 2017
mondays 8-10 pm, £7 at the troubadour
for advance booking: pay via PayPal (on readings page) or cheque to Coffee-House Poetry at PO Box 16210, LONDON W4 1ZP
mon 16 oct: twenty-firsts: with jo shapcott, maura dooley, michael laskey & mimi khalvati plus twenty-one first-half readers including rachel donati, eleni cay, fran o'leary, charlotte baldwin, ingrid leonard, fahima sahabdeen, elaine baker, katy mack, mark huband, caroline hammond, katarina grabowksy, matthew paul, jennifer wong, fiona larkin, tessa anslow, tiffany anne tondut, louisa campbell, karen littleton, helen adie, lesley sharpe & chloe-louise adegoke
mon 30 oct, 8pm: charles causley, troubadour: with john mole, alyson hallett, rory waterman, cahal dallat, bernadette reed & jim causley
mon 13th nov, 8pm: off-the-wall wordsmiths: with lorraine mariner, a.f. harrold, jane yeh & paul Stephenson + 21 off-beat first-halfers: steve kendall, matt barnard, christopher reid, andrew ball, seraphima kennedy, diana pooley, iain whitely, roisin tierney, abigail parry, soul patel, susannah hart, kate ghyll, geraldine clarkson, mark winfield, rosie shepperd, steph morris, marianne burton, scarlett sabet, richard price, june lausch, betsy de lotbiniére & rishi dastidar
mon 27 nov, 8pm: troubadour international poetry prize night, with 2017 judges imtiaz dharker & michael symmons roberts read with 2017 prizewinners, plus music from the manning sisters
mon 11 dec, 8pm: down by the riverside, a 'waterways'-themed poetry party
See full details of this season's poetry readings
classes - oct-dec 2017
sundays 12-3.30 pm, £28 at the troubadour
sun 15 oct, 12-3.30 pm: deep river: themed writing workshop with anne-marie fyfe
sun 29 oct, 12-3.30 pm: deep river: themed writing workshop with anne-marie fyfe
sun 26 nov, 12-3.30 pm: a tree grows: themed writing workshop with anne-marie fyfe
advance booking only as our workshops/classes (limited to 15 attendees) are frequently oversubscribed: pay via PayPal (see classes page) or cheque to Coffee-House Poetry, PO Box 16210, LONDON W4 1ZP: if overbooked you'll be informed by e-mail & refunded promptly