"… life, literature, and the pursuit of happiness in the famous Troubadour cellar-club, London's liveliest and best–loved poetry landmark since the 1950s …"
Former US Poet-Laureate Billy Collins on the Troubadour's 60th birthday as a writer's café…
           Thanks to the zeal of its many managers and promoters, the Troubadour has evolved over its 60 year history from a hidden-away beatnik coffee house to a world famous center for the performance of music and poetry. Its walls have become storied, and if only the place had halls, they would be hallowed. The Troubadour was the scene of the first reading I gave in the UK, and I count myself among the long line of poets who are eager to return and darken its doorway again.
welcome
from Coffee-House Poetry organiser, Anne-Marie Fyfe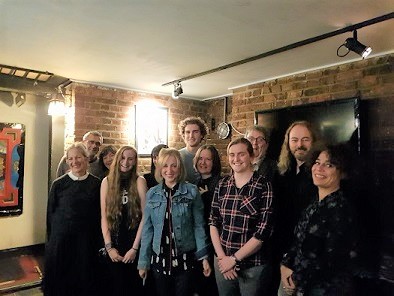 Yes! The word is out! Our fabulous, diligent, & experienced Troubadour International Poetry Prize 2018 judges, Jo Shapcott & Daljit Nagra, have come up with 10 great winners for our sponsored poetry prizes & 3 outstanding poems for 1st/2nd/3rd places, all of which you can read — winners' names, poem titles, the poems themselves, longlist names, & judges' reports — on our poems page.
And what an amazing Prize Night on Monday — with Jo & Daljit's readings, plus their incisive views on what makes a poem rise to the top of such an incredibly high-quality stack. Of course we heard the winning submissions, many from poets who'd flown-in or trained-in from far & near for the occasion, & heard some read by guest poets (Karen McCarthy Woolf, Tim Dooley, & Mona Arshi) for those winners who couldn't be here: our first prize winner, for example, was in mid-air from Singapore to Perth when the announcement was made!
Season's last workshop's the #sundaygallery 2nd-session of the second group signed-up for the dazzling, surreal, challenging two-parter, Minds of Snow, (now fully booked) with its new-writing/new/genres assignment.
And the season's last #poetrymonday is, as ever, a poetry party with — this time — a chance to chill, that's No Snowflakes, Mon 10 Dec. Hear what intrepid invited guest poets make of snowdrifts, blizzards, & icy Arctic wastes — their own poems or those by famous poetic explorers of the sub-zero psyche. Come along for a warm Troubadour welcome, and the opportunity to pit your winter wits against our not-too-serious prize quiz (to win warm reds & cool, cool whites, wine-wise) … & listen/ To hear sleigh-bells in the snow & similarly seasonal interval music.
Booking now on #poetrymondays page see you there!
#sundaygallery classes & courses - oct-dec 2018
sun 14 oct & sun 28 oct, 12-3.30 pm: minds of snow: two-part themed writing workshop with anne-marie fyfe
sun 11 nov & sun 9 dec, 12-3.30 pm: minds of snow: two-part themed writing workshop with anne-marie fyfe
advance booking only as our workshops/classes (limited to 15 attendees) are frequently oversubscribed: pay via PayPal (see classes page) or cheque to Coffee-House Poetry, PO Box 16210, LONDON W4 1ZP: if overbooked you'll be informed by e-mail & refunded promptly