"… life, literature, and the pursuit of happiness in the famous Troubadour cellar-club, London's liveliest and best–loved poetry landmark since the 1950s …"
Former US Poet-Laureate Billy Collins on the Troubadour's 60th birthday as a writer's café…
           Thanks to the zeal of its many managers and promoters, the Troubadour has evolved over its 60 year history from a hidden-away beatnik coffee house to a world famous center for the performance of music and poetry. Its walls have become storied, and if only the place had halls, they would be hallowed. The Troubadour was the scene of the first reading I gave in the UK, and I count myself among the long line of poets who are eager to return and darken its doorway again.
welcome
from Coffee-House Poetry organiser, Anne-Marie Fyfe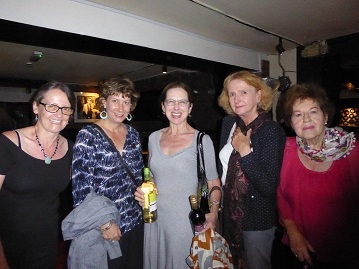 Whole galaxies of poets (well, 100+, as ever on party-night) in their usual stellar orbits, converged on the hub of the poetic universe last night (i.e. the Troubadour's cellar-club!) to share intergalactic poems, from past, present, & light-years into the future, from Metaphysicals to Modernists, from Mediaeval & Mythological to the present post-moon-landing generation.
Catch up with those poems & poets that caught Greg Freeman's journalistic/critical eye on the latest Write Out Loud blog … And congratulations both to Susan Utting for best planet-poem-of-the-night & to Steph Morris's table, at the universe's outer edge, on their outstanding 'poetry-quiz' score – including a resounding 100% on the interplanetary music round.
Just one more themed workshop this weekend (Sun 2 Jul, 12-3.30 pm, A Tree Grows, third outing for this inspiring session) to wrap both our amazing Summer'17 season, & our 20th great Coffee-House Poetry at the Troubadour year, with an exciting Year-21 already lined up for the autumn.
Watch this space or join the e-list & keep up-to-date with our regular events, & with the prestigious Troubadour International Poetry Prize 2017 (submissions due in by Mon 16 Oct, so do pass on info/links to fellow-poets/students re: our new list of financial & sponsored/poetry-related prizes as well as Troubadour treats!)
readings - may-jun 2017
mondays 8-10 pm, £7 at the troubadour
for advance booking: pay via PayPal (on readings page) or cheque to Coffee-House Poetry at PO Box 16210, LONDON W4 1ZP
mon 15 may: spring fever: with elaine gaston, jon stone, claire dyer, alistair noon, ruth sharman, nick makoha, michael scott & penny boxall plus singer/guitarist henry fajemirokun
mon 29 may states of writing: with d. nurkse, reading & in-conversation plus, before the break, poets from university of north florida, plus singer/guitarist mark ari
mon 12 jun: a matter of life & death: the much-loved, & award-winning, michigan poet, essayist & undertaker, thomas lynch, reading & in-conversation, with special guest appearance by aisling & julie-anne manning
mon 26 jun: planet earth: poetry party with guest readers, music & prize-quiz on the theme of planets & perseids, stars & satellites, orbits, galaxies & constellations…
See full details of this season's poetry readings
classes - may-jul 2017
sundays 12-3.30 pm, £28 at the troubadour
(except yeats walk, sunday 25th jun, 2.30-5 pm, £18 from ravenscourt park tube)
advance booking only as our workshops/classes (limited to 15 attendees) are frequently oversubscribed: pay via PayPal (see classes page) or cheque to Coffee-House Poetry, PO Box 16210, LONDON W4 1ZP: if overbooked you'll be informed by e-mail & refunded promptly
sun 21 may, 12-3.30 pm: a tree grows: themed writing workshop with anne-marie fyfe
sun 28 may, 12-3.30 pm: masterclass: critical workshop with d. nurkse (now fully booked)
sun 11 jun, 12-3.30 pm: genre bending: writing workshop with thomas lynch (now fully booked)
sun 18 jun, 12-3.30 pm: a tree grows: themed writing workshop with anne-marie fyfe
sun 25 jun, 2.30-5 pm, £18: land of heart's desire: a wb yeats walk with cl dallat
sun 2 jul, 12-3.30 pm: a tree grows: themed writing workshop with anne-marie fyfe