"… life, literature, and the pursuit of happiness in the famous Troubadour cellar-club, London's liveliest and best–loved poetry landmark since the 1950s …"
Former US Poet-Laureate Billy Collins on the Troubadour's 60th birthday as a writer's café…
           Thanks to the zeal of its many managers and promoters, the Troubadour has evolved over its 60 year history from a hidden-away beatnik coffee house to a world famous center for the performance of music and poetry. Its walls have become storied, and if only the place had halls, they would be hallowed. The Troubadour was the scene of the first reading I gave in the UK, and I count myself among the long line of poets who are eager to return and darken its doorway again.
welcome
from Coffee-House Poetry organiser, Anne-Marie Fyfe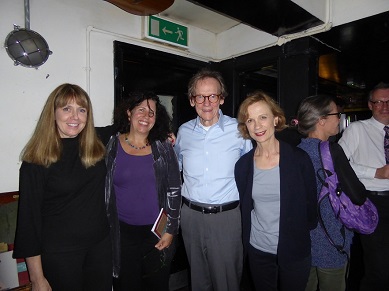 First thing's to remind everyone that submissions deadline for Troubadour International Poetry Prize 2018 is Mon 22nd Oct so if you haven't submitted poems (or even if you have — remember you can submit as often as you like, & as many poems as you wish) do check out prizes/judges/rules on our prizes. You could be one of the prizewinners invited to receive your prize & read on the Troubadour stage along with our 2018 judges Jo Shapcott & Daljit Nagra at Troubadour International Poetry Prize Night on Mon 26th Nov!
And after that… yes, thanks, we did have a great US-poetry-themed opening night, some Dylan-esque/Simon-ish music, an S&G song from Henry Fajemirokun, incredibly varied & compelling contemporary poem selections from 18 regular Troubadours, real/essential poetry issues in the interview/conversation with J Chester Johnson (centre in pic) & Elizabeth Powell (left) ranging around the American Dream, state-of-the-union, state-of-the-art, even relevance of the art, with Chester – despite his collaboration with WH Auden- refuting Auden's claim that poetry makes nothing happen.
So what's next: only six of the best new poets around, backed by new work from 21 current Troubadour favourites on Mon 29 Oct, to be followed by my own words&music performance The Voyage Out on a last (extra) gig at the Troubadour after a year's coast-&-island-hopping to locations (poetry-groups, arts centres/centers, libraries, etc) in Suffolk, Cornwall, Devon, Antrim, Cork, Wexford, Wales, Scottish Highlands & Islands, Boston, Martha's Vineyard, Maine & Nova Scotia. The project started 'at home' in Cushendall on the Antrim Coast where I grew up, so bringing it 'home' to the Troubadour — supported by 21 Troubadour poets with newly written sea/coastal/island poems — seems like the perfect end to 'the voyage', a fitting homecoming.
The new two-part workshop (with radical new homework assignment between the two #sundaygallery dates) has proved incredibly popular & I'll be posting two new dates, a second two-parter+assignment workshop, on the #sundaygallery classes page in the next few days! And who knows how many of the new poems from those Arctic explorations (the workshop's titled Minds of Snow) will end up — alongside some familiar/canonical snow-poems — at our suitably-seasonal Mon 12th Dec No Snowflakes wrap party (+music, quiz etc)
But first… prize submissions by Mon 22nd & be there, for The Best New Writing on Mon 29 Oct!
#sundaygallery classes & courses - oct-dec 2018
sun 14 & sun 28 oct, 12-3.30 pm: minds of snow: two-part themed writing workshop with anne-marie fyfe
advance booking only as our workshops/classes (limited to 15 attendees) are frequently oversubscribed: pay via PayPal (see classes page) or cheque to Coffee-House Poetry, PO Box 16210, LONDON W4 1ZP: if overbooked you'll be informed by e-mail & refunded promptly