Troubadour Poetry Prize 2013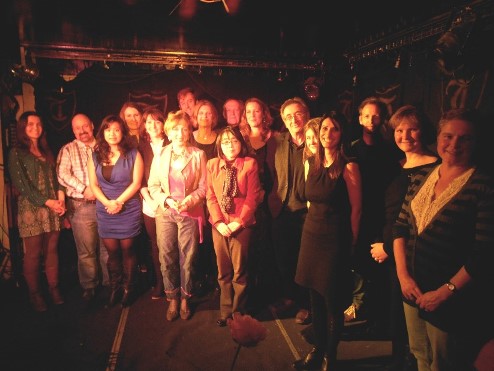 Troubadour International Poetry Prize 2013: some of our prizewinning poets at Troubadour Prize Night on Mon 2nd Dec 2013 (l to r) Cristina Navazo-Eguia Newton, Richard Douglas Pennant (Cegin Productions), Theresa Munoz, Jo Hemmant, Katy Mack, Anne-Marie Fyfe (organiser), Robert Peake, Louise Warren, Hideko Sueoka, Martin Haslam, Lia Brooks, George Szirtes & Deryn Rees Jones (judges), Mona Arshi, Stuart Silver, Eleanor Hooker and Caroline Smith (see poems below, along with 2007-2012 winners/poems and London New Poetry Award 2010 winner)
Troubadour International Poetry Prize 2013
Sponsored by Cegin Productions
The following prizewinning poems were chosen by judges Deryn Rees-Jones & George Szirtes who read along with winning poets at our annual prizegiving event at the Troubadour on Monday 2nd December 2013:
First Prize, £2,500, Owl, Hideko Sueoka, Tokyo, Japan
Second Prize, £500, Bad Day in the Office, Mona Arshi, London W5
Third Prize, £250, Red Wing Correctional Facility, Tim Nolan, St Louis Park MN,

USA
and, with prizes of £20 each:
Gloria, Linda K Thompson, British Columbia, Canada
The Bonsai Master's Wife, Sharon Black, St Andre de Valborgne, France
Hare, Ross Cogan, Faringdon, Oxfordshire
Weathering, Eleanor Hooker, Co. Tipperary, Ireland
Balconies, Louise Warren, London NW3
Outside the window the wild world still calls…, Wes Lee, Wellington, New Zealand
Y2K On Koh Samui, David Condell, Glasgow
Midwife to Mother Shipton, AC Clarke, Glasgow
They Are Building a Pleasure Dome, Michael Blackburn, Lincoln
The human touch, Martin Haslam, Wokingham, Berkshire
Elk, Lia Brooks, Southampton
Still Life with Bougainvillea, Robert Peake, Whitwell, Hertfordshire
A Night in the Doll's House, Katy Mack, London SW11
Teenager, Caroline Smith, Rickmansworth, Hertfordshire
Simpsons dept store, Toronto, Theresa Munoz, Edinburgh
The Barking Women of Josselin, Jo Hemmant, Kent
Main Street Goes Up In Flames, Alice Moore, Candor NY,

USA

Vanishing Rivers of Punjab, Cristina Navazo-Eguia Newton, Swindon, Wiltshire
Word Ancestors, Aideen Henry, Galway, Ireland
The Waltzer in Sunlight, Marilyn Francis, Radstock, Bath
Owl
For Mr. G. P. and Mr. G. A.
I
Now I work without that sign following
D, prior to F. I follow you,
writing about an owl fascinating
my soul, Mr. G. P., far from haiku.
Did you catch calls of an owl in a park
in Paris sounding again and again?
You did? I, too, pick up this song at dark
singing not-'twhoo' but 'coo hmm' in misty rain.
Did you think of this owl as a symbol
of sharp-sightly wisdom in Paris?
In Shanghai this owl signals sin and ill
and bad luck, on a par with cannabis.
In your world, if an Asian owl should light
on you, would you call it or avoid it?
II