Troubadour Poetry Prize 2013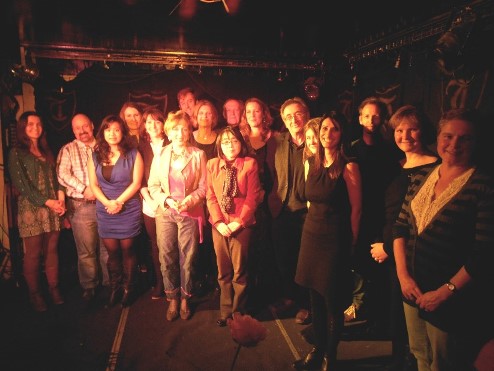 Troubadour International Poetry Prize 2013: some of our prizewinning poets at Troubadour Prize Night on Mon 2nd Dec 2013 (l to r) Cristina Navazo-Eguia Newton, Richard Douglas Pennant (Cegin Productions), Theresa Munoz, Jo Hemmant, Katy Mack, Anne-Marie Fyfe (organiser), Robert Peake, Louise Warren, Hideko Sueoka, Martin Haslam, Lia Brooks, George Szirtes & Deryn Rees Jones (judges), Mona Arshi, Stuart Silver, Eleanor Hooker and Caroline Smith (see poems below, along with 2007-2012 winners/poems and London New Poetry Award 2010 winner)
Troubadour International Poetry Prize 2013
Sponsored by Cegin Productions
The following prizewinning poems were chosen by judges Deryn Rees-Jones & George Szirtes who read along with winning poets at our annual prizegiving event at the Troubadour on Monday 2nd December 2013:
First Prize, £2,500, Owl, Hideko Sueoka, Tokyo, Japan
Second Prize, £500, Bad Day in the Office, Mona Arshi, London W5
Third Prize, £250, Red Wing Correctional Facility, Tim Nolan, St Louis Park MN,

USA
and, with prizes of £20 each:
Gloria, Linda K Thompson, British Columbia, Canada
The Bonsai Master's Wife, Sharon Black, St Andre de Valborgne, France
Hare, Ross Cogan, Faringdon, Oxfordshire
Weathering, Eleanor Hooker, Co. Tipperary, Ireland
Balconies, Louise Warren, London NW3
Outside the window the wild world still calls…, Wes Lee, Wellington, New Zealand
Y2K On Koh Samui, David Condell, Glasgow
Midwife to Mother Shipton, AC Clarke, Glasgow
They Are Building a Pleasure Dome, Michael Blackburn, Lincoln
The human touch, Martin Haslam, Wokingham, Berkshire
Elk, Lia Brooks, Southampton
Still Life with Bougainvillea, Robert Peake, Whitwell, Hertfordshire
A Night in the Doll's House, Katy Mack, London SW11
Teenager, Caroline Smith, Rickmansworth, Hertfordshire
Simpsons dept store, Toronto, Theresa Munoz, Edinburgh
The Barking Women of Josselin, Jo Hemmant, Kent
Main Street Goes Up In Flames, Alice Moore, Candor NY,

USA

Vanishing Rivers of Punjab, Cristina Navazo-Eguia Newton, Swindon, Wiltshire
Word Ancestors, Aideen Henry, Galway, Ireland
The Waltzer in Sunlight, Marilyn Francis, Radstock, Bath
Troubadour International Poetry Prize 2013 — Judges Report
Deryn Rees-Jones
Poetry competitions are a test of poems, but they also test judges. They demand that you think hard about what you value, and why, and that has the ongoing and demanding consequence of making you assess and reassess your own work. The standard of poems submitted for this competition was incredibly high. The prize winning poems stood out especially because they had that special gift of being able to create their own imaginative universes. They were poems that felt almost hermetically sealed, complete in their structures and images and sounds and rhythms; all the shortlisted poems, were quite rightly poems that were in love with language; they felt in a strange way as if they had always been written. But they also took risks; formal risks, imaginative risks, and risks of feeling. The winning poem in particular combined these technical abilities with imaginative ones; and it was an especial pleasure to hear it read aloud.
George Szirtes
What do prizes achieve? A brief improvement in one's cash balance and a certain prominence for a certain time, though not always. The person who won the National Poetry Competition the first time I judged it in 1988 is not a well-known name, but I remember the process quite clearly. At the judges meeting – the other judges being Edwin Morgan and Jonathan Barker – by which time we had individually reduced the thousands of poems to just 40 each, a long discussion went on that developed a certain dynamic. It was a dynamic in which each judge changed position several times, occasionally even arguing against his original suggestion. The longer the discussion went on the more different each poem looked – then, just as we were all reeling and critically punch-drunk, one poem emerged, like a ship out of a fog, a poem in which we suddenly saw the best and most brightest of virtues and the entire momentum swung behind it. The prize was won in the last twenty minutes of a four hour discussion and weeks of reading.
It is not satisfactory but it is what is humanly possible. Did we make the best choice? Did we leave out superior poems, did we entirely miss a major work? We might have done. We are, after all, human, not gods. Weeks of reading came down to this. One poem was going to get vastly more money than others that had closely rivalled it. One poet was going to have his or her name in lights, two others would receive a brief glow and the rest would vanish into the pre-competition darkness, the best of them to emerge in magazines and books at their own good pace, if lucky.
It was a difficult task then, and it is now. My impression is that the level of competence has risen year on year for various reasons so the question the judge is forced to ask is not whether this or that poem is good but whether it is a potential winner. If I were teaching I would have to think of ways of explaining the virtues and problems of a poem to the writer, and half-consciously, I still feel I should and it is wearing. All human life is in the poems. There are poems that write with grace of the most dreadful things and one feels dreadful rejecting them. We are used to dealing with people, not anonymous numbers.
In this case both judges felt the pull of the adventurous and idiosyncratic, of poems that tried to do something very difficult, or even something simple, in an original way. There were many lovely poems and it was hard to make the best stand out. Some quality of the voice arrests us. Some utter clarity. The sound of something breaking that sounds just right. Everything on our commended list has great virtues, some might have superior virtues to the three we chose. Time will tell.
Third Prize poem, Red Wing Correctional Facility is, oddly enough, about teaching poetry, not, you might think an important subject. The voice begins novelistically, the speaker enters and simply talks, and it all seems pretty well what you'd expect, then half-way through it mentions the soul, in italics with capital letters, and now we are looking at inmates as they begin to write – and what they write, and how they write, defines their broader masculinity and their relationship to nature. The stakes have risen now and the poem is no longer about teaching Poetry with a capital P but about people: about who they are, where they are and what they do with those facts.
If the third placed poem dealt with one aspect of masculinity, the poem in second place, Bad Day in the Office deals with a traditional feminine problem, looking after household and children, everything needing attention at once. 'Everywhere there is the stink of babies' says the poem. That 'stink' permeates everything, the rabbit that tops itself, the tulsi plant at the doorstep, the curry, the dock-leaves, the radio announcer's voice, and the orang-utans, down to that 'sodding bunny'. These are the murderous suburbs of domesticity delivered in a sharp but tender voice, following the trail of clichés by which it must live but which it must – and does – transform into memorable, original lines..
We held our breath before deciding on our winner, Owl. The poem consists of three sonnets organised into three quatrains and an end couplet. But that was not the issue: we had a good number of other more than competent sonnets and sestinas. It was what the formal device did. It captured sound. The names Mr GP and Mr GA meant nothing to me at first (they were there in the footnote) but the owl did. Mentally I detached the poem from its provenance as a piece of delightful lyrical Oulipanism. The voice was clear, funny, scholarly, slightly on edge yet masterful, and the noises of the owl became ever more important. The missing out of the letter e – that forms the reference to Georges Perec and his translator, Gilbert Adair – came to me later. But, beyond that, what was becoming ever more solid before us was simply an owl, an owl in language. In Elizabeth Bishop's wonderful poem, The Fish, everything by the end is "rainbow, rainbow, rainbow". Here it was all owl calls. The third sonnet ran a vast risk with its phonetic evocations, a vast, original, probably unrepeatable risk. But as far as I was concerned, the fog had cleared, our ship had arrived. We held our breath, decided to fall in love with it, and dived in.
Owl
For Mr. G. P. and Mr. G. A.
I
Now I work without that sign following
D, prior to F. I follow you,
writing about an owl fascinating
my soul, Mr. G. P., far from haiku.
Did you catch calls of an owl in a park
in Paris sounding again and again?
You did? I, too, pick up this song at dark
singing not-'twhoo' but 'coo hmm' in misty rain.