Troubadour Poetry Prize 2014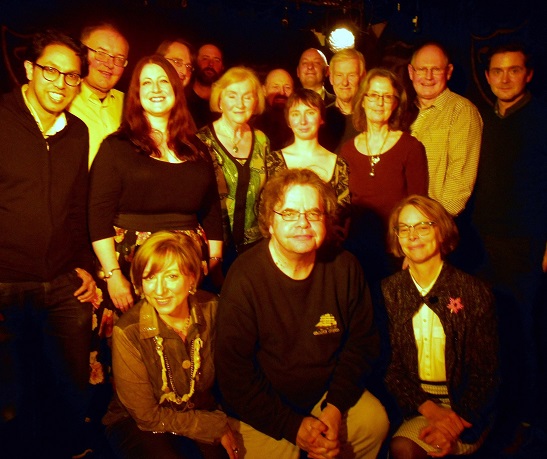 Troubadour International Poetry Prize 2014: some of our prizewinning poets at Troubadour Prize Night on Mon 1st Dec 2014 (l to r) Rishi Dastidar, Paul Blake, Suzanna Fitzpatrick, Ross Cogan, Dan O'Brien, Alma Brayden, Richard Douglas Pennant (Cegin Productions), Rachel Plummer, Richard Aronowitz, Chris Beckett, Frances Galleymore, Ian McEwen, Paul Stephenson & (kneeling) Anne-Marie Fyfe with 2014 prize judges Neil Astley & Amy Wack
Troubadour International Poetry Prize 2014
Sponsored by Cegin Productions
The following prizewinning poems were chosen by judges Neil Astley & Amy Wack who read along with winning poets at our annual prizegiving event at the Troubadour on Monday 1st December 2014:
First Prize, £5,000, The War Reporter Paul Watson and the Barrel Bombs, Dan O'Brien, Santa Monica CA,

USA

Second Prize, £1000, Aurvandil's Toe, Ross Cogan, Faringdon, Oxfordshire
Third Prize, £500, Recovery Room, Wes Lee, Ngaio, Wellington, New Zealand
and, with prizes of £25 each:
Intertidal, Gary Geddes, Thetis Island BC, Canada
Moth Blues, Danielle McShine, Joinville-Le-Pont, France
I Medea, Sarah Roby, Norwich
Baltic Woman, Paul Stephenson, Paris, France
Field of Light, Alma Brayden, Sandycove, Co. Dublin, Ireland
Kate Bush as spider goddess, Rachel Piercy, Henley-on-Thames
Apoptosis, Paul Blake, London SE13
Coal Song, Anja Konig, Zürich, Switzerland
Punctuation Points, Edward Ragg, China
Composition with lots of colours No. 1, Rishi Dastidar, London SE11
Mini Van, Peter Sansom, Sheffield
Take Five, Bob Rogers, Falmouth
The Clowns and Cut Confetti, Ian Harker, Meanwood, Leeds
The day they murdered Assefa Maru, Chris Beckett, London SW16
Uncut, Rachel Plummer, Edinburgh
A list of the bird species recorded in Syria, Ian McEwen, Bedford
Recently in Somalia, Frances Galleymore, Wellswood, South Devon
Putting up a Music Stand, Richard Aronowitz, Cambridge
Ravenglass for Eskdale, Genevieve Carver, Ellerton, York
Breech, Suzanna Fitzpatrick, Orpington, Kent
Judges' Reports
Neil Astley
Poetry competitions always present a window on the past year, and the 2014 Troubadour Poetry Competition was no exception, with wars — past and present — the chosen territory of many of the poets. Some writers took their inspiration from the First World War in this anniversary year, but many more focussed on more recent conflicts, none more so than Dan O'Brien, who submitted three poems, any one of which could have won first prize. All three were so compelling that I found myself measuring all the other poems I read against them, and the fact that he had three poems which were that strong meant that I had no hesitation in putting forward one of them for first prize. All three are "docupoems" relating to specific incidents or aspects of the current conflicts in Syria and Afghanistan seen through the eyes of O'Brien's war reporter protagonist. We've all heard about civilians being killed or injured by barrel bombs dropped by President Assad's forces in Syria, which sound horrific enough in neutral news reports, but O'Brien's poem puts the reader on the ground: we witness the dropping of these scrap metal weapons, and we see and experience for ourselves how something makeshift — which is literally thrown together — will kill or maim anyone within a wide radius of its impact. His descriptions focus on what seems absurd — a grotesque 'comedy of manners' — to dramatise and heighten the horror. His protagonist reporter's photograph or photographs are the window O'Brien sees through to engage more fully with what the camera freezes.
Our runners-up include several other poems relating to recent events in Iraq or Afghanistan, Somalia and Ethiopia, some of these written from first-hand experience. Another recurrent theme — as in all the poetry competitions I've judged over the years — was family life recalled, whether fond or fraught, as well as stories of growing up, coming to terms with personal tragedy, finding one's place in the world. Here the anonymity of the writers can make the poems feel even more universal when read en masse. It's something of an emotional rollercoaster too: being suddenly sucked in to so many people's lives, sharing their grief, heartbreak or regret. Our third prizewinner, Wes Lee, submitted many such poems, several of them potential winners, and I found it quite hard to pick between poems relating to so many different kinds of life experiences, but in the end kept coming round to 'Recovery Room'. When we delivered our final list of winning poems we discovered that we'd unknowingly picked another poem of hers as a runner-up, which only served to confirm my sense that she really did need to be our third prizewinner; and so we were able to pick another poem we particularly liked to replace her "disqualified" second poem from the numerous others on our shortlists.
Amy Wack
Thanks to Anne-Marie and to our sponsors this evening. Anne-Marie Fyfe has been running the famous Troubadour Coffee House Poetry series for a number of years and should be congratulated. I do feel that as the banking family Medici helped fund the renaissance, and stumped up for Botticelli, today's well-off should also come up with the coin for the arts. It does them credit.
I also thank all the poets here today and not just the ones on the winner's long or shortlist. Poetry is something of a sacred mission for me and so I did approach the task of reading close to 4000 poems with seriousness. People write poems often about the most important junctures of their lives: loss, love, illness, death. As in the great Yeats' poem, I knew that I was treading on peoples' dreams so I tried to tread gently.
The salutary lesson of the 19th century also keeps me humble. A number of my favourite poets were unknown or privately self-published: Emily Dickinson, G.M. Hopkins and Walt Whitman. We might just not know for another hundred or even two hundred years if we've overlooked some outlier hermit or underestimated some upstart crow.
Of course I was honored to be asked to judge this prestigious competition, particularly as my co-judge was to be the great Bhudda of Bloodaxe, Neil Astley. Everyone in the poetry universe knows Bloodaxe, for the depth and breadth and passion of their list. We all owe Neil a debt for his tireless work in the poetry mines. He's done much to keep this art in the public mind.
I did note a demographic in the poems: baby boomers, those born after the War and before 1960, many poems were about mid-life issues: aging, illness, the death of parents. There weren't as many love poems or poems about birth or raising children as one might have expected. I think there was only one poem about sport, and that was golf!
I think Neil will agree with me that War poems featured strongly, including that of our First Prize winner Dan O'Brien. O'Brien's 'War Reporter Paul Watson and the Barrel Bombs' is vividly realistic, terrifying, and convincing. One of the results of mass communication in the 21st century is that we are all now more directly and tangibly aware of the violence inflicted in our names and with our money, in disturbed parts of the (mostly) third world. As an American, and as a child of a military family, war themes are acutely resonant with me, but also I think should be part of the conscience, and certainly the consciousness of every intelligent person, particularly those of us in the reasonably well-off and peaceful Western societies.
Other poems on our longlist echoing war themes: 'The Field of Light' by Alma Brayden; 'Apoptosis' by Paul Blake; 'The Clowns and Cut Confetti' by Ian Harker; 'A List of Bird Species recorded in Syria' by Ian McEwan and 'The Day they murdered Assefa Maru' by Chris Beckett — all about recent and topical conflicts. As Neil pointed out War themes might well be more to the fore due to the many events surrounding the 100 year anniversary of World War I.
We also felt that the suffering of others in the less well-off parts of the world, due mostly just to poverty, ignorance and neglect, made for some powerful poems: 'Recently in Somalia' by Frances Galleymore, with its moving dipiction of a blind woman and 'I Medea' by Sarah Roby, a frightening portrayal of FGM.
Then there is the trauma closer to home.Our Third place winner, Wes Lee, submitted a number of very powerful poems seemingly based on memories of a protagonist's disturbing and abuse-haunted childhood. The unearthing of trauma as in classic tragedy, is both compelling and cathartic. Some people must fight wars on very personal grounds. 'Mini Van' by Peter Sansom worked on similar themes, and 'Take Five' by Bob Rogers was a cool look at memory loss and aging from the perspective of an elderly poet. These are also courageous poems of witness and survival.
It wasn't all tragedy. Although I will have to bring out my wet noodle to lash all the people, who submitted limp nature poetry, for Wordsworth is too often like the ghost of Christmas Past in poetry. I found myself craving a sense of urgency here as the fate of the planet should be one of our most pressing concerns. Shouldn't it too be on a war footing?
There were a handful of absolutely wonderful nature poems. We've chosen a few, 'Moth Blues' by Danielle McShine, and our second prize winner, 'Aurvandil's Toe' by Russ Cogan. Cogan's poem about stars, probably second only to cats as dangerous and inadvisable bit of subject matter, just bowled me over. Each word was note-perfect.
There were also some good poems that began with landscapes and enfolded relationships: 'Coal Song' is a particularly beautiful example, as is 'Intertidal' where a river journey in the Americas contains a poignant memory of a dying father. I loved how Paul Stephenson's 'Baltic Woman' builds a map-woman from the Baltic states. 'Ravenglas for Eskdale' by Genevieve Carver was lovingly evocative of a British train journey.
There were several poems, sometimes overlapping on our lists, that were like the perfect little dances, gavottes, beautifully executed and succinct. 'Putting Up a Music Stand' by Richard Aronowitz; 'Composition with lots of Colours No. 1' by Rishi Dastidar; 'Punctuation Points' by Edward Ragg. We also liked 'Uncut' by Rachel Plummer as exmplar of the sonnett form.
It was hard to be funny. Humour does date and one person's amusing can be another person's bad taste. I also very much appreciated how serious and high-minded Neil Astley's choices invariably were. Poetry is indeed a serious business. I will confess that I did demand one heroine for our time: Rachel Piercy's 'Kate Bush as a Spider Goddess'.
The War Reporter Paul Watson and the Barrel Bombs
The bird is like a black spider spinning
miles over our heads, dangling its egg sac
of water heaters, gas canisters or
rusted mufflers with stabilizing fins
soldered on—basically pieces-of-shit
IEDs of TNT, nitrogen
-rich fertilizer, diesel, anything
likely to kindle after exploding
upon impact. With scrap metal for shrapnel
like candy inside piñatas released
into a comical, almost human
-like gyring, like affianced sky divers
weaving and reaching, until they align
in a bullet-nosed dive into the day
below. Light before sound. The mushroom cloud
heralds catastrophe. Burning plastic,
blizzards of shattered concrete. Low moaning
beneath new earth. The living and the dead
suddenly like Africans wearing masks
of white mud. Or debauched protagonists
in some comedy of manners. Their limbs
like tangled marionettes. Children rescued
in a parody of birth. Some reviving
like fish thrown back to the sea. A man blinks
pantsless on what was his toilet, atoms
swirling away. Bits of spine. Bits of spine
laid on a blanket. A foot in a sock
sticks out of the mountain. They tickle her
to see if they should dig. We come for you,
he swears to the camera. By which he means
the killers, mind you, and not the buried
victim.
Dan O'Brien
Aurvandil's toe
If we could but see it, the night
would be fat with stars. Not only the gaudy
plume of Polaris, spatter of constellations,
but tiny translucent fragments of candles.
If we had millwheel eyes the sky