Troubadour Poetry Prize 2015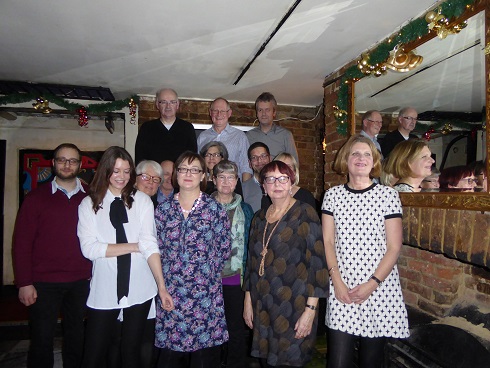 Troubadour International Poetry Prize 2015: some of our prizewinning poets (& judges) at Troubadour Prize Night on Mon 30th Nov 2015, back, David J Costello, Ian McEwen, Richard Meier, front, Anthony Adler, Tiffany Anne Tondut, Diana Pooley, Richard Douglas Pennant, Catherine Ormell, Barbara Marsh, Susan E Holland, John McAuliffe, Ruth Valentine, Jean Sprackland, Louise Warren
Troubadour International Poetry Prize 2015
Sponsored by Cegin Productions
The following prizewinning poems were chosen by judges Jean Sprackland & John McAuliffe who read along with winning poets at our annual prizegiving event at the Troubadour on Monday 30th November 2015:
First Prize, £5,000, The Farthest Way East, Barbara Marsh, London
Second Prize, £1000, Calico, Ruth Valentine, London
Third Prize, £500, Icing the Heart, Catherine Ormell, London
& with 20 prizes of £25 each:
What Falls Behind, Allison Adair, Boston MA,

USA

Kitchen Poem, Anthony Adler, St Albans, Hertfordshire
Moth, David J Costello, Wallasey,Merseyside
Hope, Julia Deakin, Flockton Moor, West Yorkshire
Half-Barrel, Tom Dowling, Kyle, Co Kildare, Ireland
Birthday Cake, Ken Evan, Matlock, Derbyshire
Night Garden, Jim Friedman, Beeston, Nottingham
After You Died, Susan E. Holland, Campbeltown, Argyll & Bute, Scotland
Nobody In My Family, Pamela Johnson, London
You Know You Will Never Ride A Bike Again, Wes Lee, Wellington, New Zealand
American Shunting, Ian McEwen, Bedford
May Fair, Clive McWilliam, Chester
Back-Story, Richard Meier, London
Bird Belling, Rebecca O'Connor, Belturbet, Co Cavan, Ireland
You Wouldn't Credit It, Diana Pooley, London
He Slept Under a Tree Among Horses, Robert Powell, York
Death Longs For Its Own Garden, James Ragan, Los Angeles CA,

USA

The Last Darling, Tiffany Anne Tondut, London
Berry, Jessica Traynor, Dublin, Ireland
Cuthbert, Louise Warren, London
Judges' Reports
Jean Sprackland writes…
When Anne-Marie invited me to act as a judge for this competition, I was keen to say yes because of my admiration for the Troubadour and the tremendous work she has put in over many years to develop this thriving poetry community — it is a very special phenomenon. A competition is by its very nature an opportunity for poets to act as rugged individuals, fighting it out for the prizes, but this one is rooted firmly in a culture of co-operation, mutual support and friendship.
The first sift was a long but relatively easy process, but the task got progressively harder as I read and re-read good poems, well-made poems which engaged me in different ways. It was fascinating to see what people wrote about — the scope was huge, though some subjects did come up again and again. Often this reflected our shared sense of what is current, what matters most urgently in the world right now — lots of people wrote about the Syrian refugee crisis, for instance. It's challenging to write about subject like this in a way which doesn't preach to the converted, which stays true to the subject while offering a new perspective on it. At the other end of the spectrum, the same is true of poems about great works of art — they too need to alchemise their subject matter, to open out beyond what already exists and is already known. I found myself reminded again and again of what the French Symbolist Stéphane Mallarmé said: Poems are not made out of ideas, they're made out of words. It's not necessarily some ingenious device which brings the poem to life — the language itself is the crucible where the alchemy happens.
I think both John and I were drawn to poems which did not easily yield every last bit of their mystery. The winning poem, The Farthest Way East, kept us talking for a good while. We sat in a café in Manchester, letting our coffee go cold as we plumbed the depths of the poem. The reader is taken back beyond where memory can reach, to infancy, which, like the Canadian wilderness itself, is on the map but no roads are shown. The snow which literally eclipses the land also erases the experience, and the threads of connection and belonging are lost. The red of the father's jacket is the most intense point of visual attention in all this whiteness, but paradoxically both jacket and father are absent, "invisible". Like all the best poems, this one means a little more each time you read it.
There were many poems about the death of an elderly parent. The second prize winner, Calico, is characterised by a warmth and humanity that made it stand out from the crowd. Its focus is on the body, and particularly the face, of the dead woman, whose name we don't know until near the end of the poem, when it is spoken, simply and touchingly by those tending to her: OK, Maureen. The imagery is exact — her eyes are like fragments of bottle-glass/ ground rough by the sea — but it is used very sparingly. There's a naturalness to the writing which is far from easy to achieve, and allows the reader to look right through it like a sheet of glass and see what really matters.
Not quite death, but something very close to it, is the subject of the third prize winner, Icing the Heart. As the ice bath slows the metabolism during open heart surgery, it seems also to still time itself, so that we are suspended for a moment between what is and what might have been. In a poem, a heart is never just a heart, in the same way that an apple is never just an apple. But here an impressive balance is maintained: the deeper meaning is modestly implied rather than spelled out; the metaphorical is controlled and is never allowed to overwhelm the literal.
It was a particular pleasure not to be restricted to our three top favourites, but to be able to choose a further twenty poems we liked and admired. Looking through them again this afternoon, I was delighted again by their range and accomplishment. Beyond the twenty, of course, is another twenty, and another, and another. Congratulations to all the winners, thank you to all the poets who entrusted us with their poems, and a round of applause for Anne-Marie for making it all happen.
John McAuliffe writes…
Near enough 4000 poems took over the house. First the room I use for work. Then the kitchen, finally the bedroom, though not quite finally. When I got down to my initial long list of 120 poems, the smaller and smaller sheaf was walked around the house, made it in to the university and back again, up and down stairs, with my mind on line breaks, repetitions and images that seemed to come into focus soon after I'd set one or other poem aside for a while.
The number of poems in the time I had to read them 5 or 6 weeks, felt overwhelming. The poems themselves, en masse, were overwhelming. Patterns, real and imagined, began to emerge. I had a run of poems about hairdressers and barbers, which led me to start thinking if barbershops and hair salons were the places people got to sit down, without devices, and write, places they could be alone, productively. Other locations recurred. Coasts, beaches, edges. Hospital wards. Gardens. Some tree houses. Some ruined houses. New houses. Kitchens. Studies. Bedrooms. Sometimes it felt as if the poems were getting very close to the place where they were being read.
When I did emerge from the trawl of almost 4000 poems I had, as I said, a long list I whittled down before I exchanged lists with Jean. I was glad to see there was some overlap, happier again to revisit poems I'd somehow missed in my read-through. We spent a week or so with this final group of 40 poems and its fair to say I hummed and hawed and dithered over the ranking of the list we finally decided on.
These winning poems had, like so many I read, stories and life in them, but they also had the stamp of style, of invention. Their writers were making poems out of life, poems which seemed to discover things as they went along. In the three prize winners what I valued most was the roominess of the poems, the sense that it sometimes felt as if they were walking away from their subjects even as they drew you further along into them. These poems had the confidence to risk things, to try out jokes, to make noise when they might have been expected to behave themselves better. And as they did this, I felt addressed, or somehow included in what they had to say.
Rereading and reading them alongside one another, it was their distinctive sound and their vivid images I trusted. How they coped with the risks they took, without losing their balance, was what allowed me to be, finally, and encouraged by my conversations with Jean, decisive about placing these poems in the order we did.
Icing the Heart has a terrific, convincing speaker and an atmosphere which indicates that a lot is at stake: this minute and all of mine, and all of my son's/ run concurrently with a flower stall opening for evening visiting,/ a brothy supper infusing the wards,/ while the West End lights up.
In Calico, a word whose sound immediately had me on its side, the poem's shifting point of view is remarkable, it's subject first seen her head thrown back/as if snoring , as if/ stargazing, lying star shaped in a field before its lovely images drift into mediation and it returns to its initial scene, suddenly all business, Ok Maureen,/ we say, and lift the beech lid of the coffin/ lower it over the calico and her face.
Other poems had similarly brilliant shifts of tone and perspective, and The Farthest Way East really took off when its seemingly atmospheric description of geography and geographical separation turned into a poem about time, and memories that stay just out of reach, a child in snow falling on mittened hands, then up again, the snow so soft it couldn't harm anyone. It couldn't, could it? Which is where the poem ends. I also loved its description of a dog, as red, bounding, an elated streak in the snow.
2015 Winning poems…
The Farthest Way East
It is on the map but no roads are shown — none,
even on the most detailed geological survey maps. I turn
the folded travel clock over and over in my hand, recall
how it sat in his hands in so many Holiday Inns. I wish
for entrance to a town I never knew. We lived across the water —
a small bridge from the US to Canada, to New Brunswick,
across the Quoddy Narrows, near the Gulf of Maine — bears
and caribou, moose, elk, the white backdrop eclipsing the land
five months of the year. This is what I imagine: snowshoes,
ice-fishing, fleece-lined ear-flapped hats, everyone
a stumbling aviator, thick gloves wrapped our hands like bandages
and digging in pockets for keys carried the danger of frostbite.