Troubadour International Poetry Prize 2019
Winner of Troubadour International Poetry Prize 2019, Michaela Coplen is presented with her £2,000 first prize by Coffee-House Poetry organiser Anne-Marie Fyfe at Over the Raindow, autumn 2019's end-of season celebration on Mon 3rd Dec at which Michaela & a number of poets read their prize-winning & commended poems.
Winners
The following prizewinning poems were chosen by our 2019 judges, Pat Boran & Kathryn Maris
(see judges reports & poems below)
First Prize, £2,000, Re-branding, Michaela Coplen, Oxford
Second Prize, £1000, Waulking the tweel, Lucy Watt, London
Third Prize, £500, Oh, Sugar!, Lindsay Fursland, Cambridge
Commended poems:
Piscator, Michael Dooley, Limerick
It never felt like this, Catherine Edmunds, Bishop Auckland
Luggala 1982, Miles Parker, Royston
The Creeps, Penny Boxall, York
Shed, Nick McKinnon, Winchester
Irene tells Mama about the Holocaust, Elisabeth Murawski, Alexandria, VA,

USA

The Waiting Room, Mary Jane Holmes, Barnard Castle
Oxygen Concentrator, Lydia Harris, Orkney
short biography, Kay Syrad, Lewes
A small, weathered path, Samuel Ugbechie, Edmonton, Canada
The Loneliness of the Long-Distance Runner, Carolyn King, Isle of Wight
The Chastity of Aunts, Michelle Lovric, London
A Middle Age, Sarah Roby, Norwich
Biography, Les Jones, Stafford
To the Person who Spray-Painted the Blackberry Bush, Ken Evans, Matlock
Morality, Play Over There with Mortality, Ben McGuire, Dublin
Some Ways to Love Them, Angela Cleland, Surrey
When My Ex Became My Stalker, Kim Moore, Cumbria
__________________________________
2019 Judges' Reports
Kathryn Maris writes…
The Troubadour International Poetry Prize earns its qualifier of 'international,' with entrants and finalists from all over the globe. The judges, too, were international this year, emerging from distinct poetic lineages and music. We made an affable pair, though: our disagreements, when we had them, were gentle; and often we enthusiastically aligned.
The poems we were privileged to 'judge' gave insights into the self, the family, the community, structural misogyny, bereavement, and life transformations such as ageing. The most pervasive subject may have been ecology filtered through a lens of anger or grief. There were fewer overtly political poems than I might have expected; and poems that engaged with 'otherness' were generally narrated by outsiders looking in, usually in the context of travel. Among the many received forms (sonnets, villanelles, pantoums etc), there was a surprising prevalence of Golden Shovels.
The most accomplished examples of the above made it to the winning or commended lists. Kim Moore's When My Ex Became My Stalker still haunts me with its rhymes, its narrative of gaslighting, and its escalating velocity—like Edgar Allan Poe, but more chilling. Carolyn King's The Loneliness of the Long-Distance Runner is an ambitious Golden Shovel: it pays homage to Gwendolyn Brooks, it zooms in on a very specific locale, and it contemplates individualism versus community. The Chastity of Aunts (Michelle Lovric) and A Middle Age (Sarah Roby) are playful 'conceptual' poems, the former riffing on a Virginia Woolf quote, the latter melding middle age with the Middle Ages. We found something to admire in all of the commended poems, many of which could have taken top prizes.
The third-place poem, Oh, Sugar! by Lindsay Fursland is a witty but devastating satire on empire, exploitation and destruction. The poem sings in its tercets, a tribute to Fursland's fine musical ear.
The second-place poem, Waulking the tweel by Lucy Watt, manages a nearly-impossible feat: combining dense, baroque language with the pace of a sprint. A tweed coat that has been animated by a vivacious father for more than 20 years becomes a kind of voice-substitute for the father after his death, and a remnant, also, of the coat's makers. The speed of the poem mimics a life span viewed in retrospect; and the rich detail of the vocabulary recalls the craftsmanship of the garment.
Re-branding, by Michaela Coplen is like a complicated building—let's say a Gothic cathedral—with buttressing, barrel vaulting and decorative features like stained glass and sculptural friezes. By some miracle of design, the structure doesn't collapse, and nor do its components. Coplen's architectural genius is her syntax, alongside a strong and certain voice. Despite its hesitations, qualifications, side stories and interruptions, this narrative about youthful antics with friends in rural United States is so structurally sound, so sure of itself, it could have no destination but a first-place spot. I expect this is not the last we'll hear from this outstanding poet.
Pat Boran writes…
Whatever about a visit to the local poetry-friendly bookshop or library, or a cruise of the best online verse-mags (dotted, like friendly greasy spoon eateries along the information superhighway), a dip into the submissions pile for a venerable poetry prize like the Troubadour feels like an immersion into our collective unsconscious.
Given that the vast majority of poems are written by individuals (who retreat to quiet or private spaces for the task), it's quite a shock to find so many gathered in the same place all at once (protestors, celebrants, misfits and messiahs) and all looking for one's attention and approval.
The fact that, for the most part, we usually encounter poems in relatively small numbers, in journals or in magazines, or in the traditional slim volume, only adds to the shock. If the reader engrossed in her/his book (think of the Kindle logo) is our idealised poem-audience relationship, then the prize submissions pile is the Tinder-box of possibilities, where swiping left (to remove distractions) is often immediately answered by anxious self-doubt and reversal.
Just as in the Sesame Street song, One of these things is not like the others, / one of these things just doesn't belong, really good poems very often announce themselves by their differences. But difference on its own will not cut it. All of us who write know that what seems fresh and new and special about a poem today can seem contrived, strained and unconvincing by tomorrow. As Samuel Johnson wrote to a correspondent who asked for an opinion on a work in progress: Your manuscript is both good and original; but the parts that are good are not original, and the parts that are original are not good. The novelties of the holiday season are seldom still with us in the lengthening days of the New Year.
In general, I suppose, I like short poems, poems that don't overstay their welcome, one might say. Outside of the world of the prize, I ask myself why do I keep going back to, for instance, Chess by Marin Sorescu, translated from a language (Romanian) I don't even speak. Possibly because Sorescu has focused all the huge and pressing concerns of his time, of his people (under the dictatorship), of the whole human enterprise, in fact, into a few short lines and a handful of images that show us one thing, in considerable detail, while prompting us, subtley, to see above and beyond it.
And actually I also like longer poems, poems that are animated by narrative energy, by rhythmic intensity, that set off not quite knowing where they are going (the way a new riff will take a musician to unexpected places), discovering their subject, their 'news' in the telling.
If choosing one, or three, winning poems from any large pile is a daunting challenge, choosing between poems from these two very different 'traditions' (among others) is a recipe for sleepless nights.
The truth is that the best poems aren't always the ones that give everything up in the first encounter. As Seamus Heaney said: It's no denigration of a poem to say that it resists its audience for a while. Like songs on the radio that grow with you, gradually, until they seem to describe your very life, the best poems need time to work their magic: after intense scrutiny, they seem to understand that they must now bide their time in one of the many sub-stacks on the living room floor or in the back of your mind, while the winds of entrenched opinion, absolute certaintly and then chilling doubt blow over and around them.
The winning poem, Re-branding, does something poetry does particularly well. In indented lines that seem to mimic the movement of smoke (the heart of the scene is describes), it attempts to put a past event back together, all the while following a rhythmic narrative turn in which the focus is now on the external, observable details and now on the speaker's own thoughts and feelings and observations of her own part in the scene. The poem turns the act of memory into an act of creation and recognises in the transience of the events it describes a moment of formative realisation, 'a searing thing' that will forever leave its mark.
Waulking the tweel is a poem full of the texture of its sartorial subject matter, in which the traditional world of tweeds and threads can nevertheless brilliantly accommodate the hyper-modern meaning of a word like 'avatar' before catapulting out into mythological significance for its closing image.
From its striking opening (The Empress Maria Theresa once ate the entire battle / of Esztergom while depressed…) to the closing line where an auctioneer's gavel flinches the room like a whip, the third prize winner Oh Sugar! offers up on a mini-history of sugar that expands into a commentary on power and authority before ending with, well, the aforementioned sting in the tail. 
Many, many other poems submitted (too numerous to mention) delighted, surprised, charmed and even entertained. There were some good jibes at Trump (sadly nothing that will assist in his impeachment!), a handful of Brexit poems (though, in the sense of societal damage, I would suggest that we are already living in a post-Brexit world); but surprisingly there are few poems that responded to the issue of immigration, to the refugee crisis, to online privacy and other pressing issues of the day – the exception being the ecological crisis which, in poetry as in daily life, is probably best tackled with specific rather than generalised 'solutions'.
The most heartening thing about reading all these many and various submissions is that, whatever the subject matter or ambition, or level of success (and not every excellent poem is a competition winning poem), so many of them clearly came into being out of an identification with, an expression of affection for, or solidarity with, some 'other' in the world: a loved one (in sickness or in health), a favourite place, a special memory, a prized word…
If poetry makes 'nothing happen' (a debate that has some mileage in it yet), the writing of it shows that (perhaps especially in times like these) love is the ultimate resistance.
2019's Winning Poems
First Prize, £2,000
Re-branding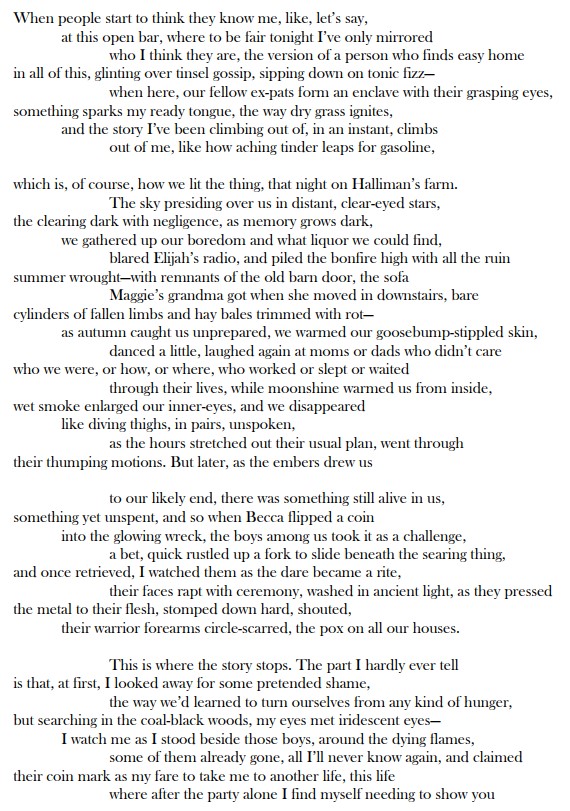 Michaela Coplen
__________________________________
Second Prize, £1000
Waulking the tweel
Waulking (walking) the tweel (tweed) – bare-foot trampling of Cheviot wool
in baths of urine, for its cleansing ammonia – contributed to the finishing process
of tweed production as a blackhouse (cottage) industry in the Outer Hebrides.
I've had this tweed coat near twenty years our father would often – eye-brow-
raisingly – repeat. He couldn't understand his girls' needs for fashion-serious,
endurance-lite clobber always climbing further north above our knees.
Secretly, we'd finger the coat's quality and smile at its projection of his
maturer state: slant-shouldered, wider girthed, spirit-levelled at base,
and patchily frayed, the herring-bone's bullish-brown gone slubby and vague.
But what the big cloth from Harris did with wet, snow and wind –
not yet understanding the weathering that enters and firms up woman,
man and thing, like the lanolin in fleece – we could only admire its proofing
as a trick. Then I heard of the 'waulking' songs chanted by weaving women
as they trampled ammonia into fresh-loomed tweel to cleanse and soften.
And before the songs, those harvested night-waters tossed into
the waulking bath. So, with all its threads and colours, it's more of
a tartan than a herringbone joke, that what my da, the scientist, stood so
brawly Scots in, had been slapped and drummed into shape by calloused hens
(just like himself, among the war-and-whiskey-widows of his tenements,
until he gave as-good-as: Our Wally with his BSc First Class).
At last, when neither coat nor owner could fully button up,
the cloth retired to the hall, where, like some old malodorous dog, it sank
its pugency deep in its corner. Eventually it shifted to the attic,
but at the end turned up at the kirk where someone remembered
a man of ideas and the sun picked out the family link, sharp and metallic,
like the pin for a kilt. The coat, even mouldier in mourning, was alone
in its pew, utterly soused in usquebaugh: that unique Hebridean brew.
It missed the grave but turned up at the wake, our doughty avatar,
swaggeringly hooked on the family tree and whistling
under its Gaelicky breath of island brews and briny bladders,
old chipped-china piss-pots, waulking songs, blackhouse women, cheviot fleece.
Lucy Watt
__________________________________
Third Prize, £500
Oh, Sugar!
The Empress Maria Theresa once ate the entire battle of Esztergom while depressed – nibbling the mounted generals, and then the rest of the indigo and cochineal regiments
according to rank – and then cannon and cannon-fodder, each sabre and sheath, the excruciating sweetness of the whole field of death giving her toothache –
all slaved over for weeks by the court confectioners who'd spun silvery see-through sugar out of the dark slow mass of molasses
imported from sultry plantations where there's blood in the brown stuff which gets refined so the sugar is innocent, transparent as tears.
Johan Maurits stuffs his house with Rembrandt's chiaroscuro, and later, Van Gogh's bi-polar beauty to sugar the pill,
as likewise, Henry Tate's gallery launders memory – feeding sweet teeth that crave a frowning cloud of crows, or myopic astonishing stars
or Turner's radiant air – now, the bidders are slaves to appreciation – one million, two million, three… an auctioneer's gavel flinches the room like a whip.
Lindsay Fursland
__________________________________
2019's Commended poems:
__________________________________
Piscator
Dumb darkness of my shape on water;
I was master puppeteer for trout.
On the riverbed, a beaded caddis
turns in tumult like a bad thought,
circles like bindweed across my feet.
But fry and ferox alike see line,
spark like atoms around the pool:
frenetic shadow-flash, silver-blink
of lateral lines; a Morse code chaos
in weed. No otter to surge them,
to fling like shrapnel their coppers and rust;
the mink sleeps in the knot of an oak.
Branched high in the Sally tree,
a cormorant appears like the Black Christ,
hangs its shadow out to dry.
Yesterday, they took me for a tree,
a fence post, a curious heifer
come to inspect the talk of water fowl.
So the largest fish, the pool-holder,
was pierced by a pheasant-tail:
stabbed of curiosity for the bead,
he swung from bank to bank,
bulled the six-pound strain to snap;
hooked still, leader trailed
his every turn as though he ran in flames.
How he seemed to laugh,
and stop,
and thrash like one in chains,
and beat his head on the weir stone
for an answer to this thing,
and thud his core to quietness,
and then to tilt and float —
and look at me with my own eye.
Michael Dooley
__________________________________
It never felt like this
after a drawing by Tracey Emin
it never felt like this—saved by
the bath tap's hot rush, heading
red-flushed to the chequer-board
floor, to the slosh, the slickly-sick
wet splish-splash of startled ceramics
it never felt like this—you did,
you knew it, the hell, you knew the hell,
it never felt so wet in the hell of your
lozenge-sweet breath, the hollow,
the bath, the halt-hallowed wash
the slip-sloshing water. you did this:
you scratched the floor patterned,
held down this mayden so makeless
you tasted her, too septic to kiss.
Catherine Edmunds
__________________________________
Luggala 1982
Where eye sees the whole hill,
mind already finds – bush, boulder,
the syllogism of the stream.
Where eye sees the whole bush,
mind already finds – furze or fraochán,
thorn or berry, leaf and a gleaming beetle.
Where aye says the whole boulder,
mind already winds over schist or quartzite,
the crystal's grain and mica's gleam.
Where aye and ever the stream
runs over hill and boulder, one from its spring to its fall,
mind, all ready, binds cataract and chute, wave and droplet,
into rainbowed whole
and the sum of sounds into one rough soothing rush.
And all is Luggala, to the last atom,
whole, unlost, in the body's recollection,
in the mind's I.
(Fowlmere, Cambridgeshire 2019)
Miles Parker
__________________________________
The Creeps
Boozed up, dumbstruck but managing to buzz
through a kazoo, he stalks his little stage,
potbellied, gesturing towards us.
Mr Punch's zygote, a sinister homunculus
strutting, string legs agog:
nothing good can come of this.
His servant squats behind him, colourless
and discreet, as he scrapes through centuries.
First, a matter of a string of sausages.
Soon it's run-ins with a crocodile, the cops
not far behind. Then inescapably Her Indoors. The beatings
thick and fast. We watch through wincing fingers
as Pulcinello, nightmare-shaped, runs off
with the joke. We're wondering what we saw in him.
Who's laughing now. Whose fault this is.
Penny Boxall
__________________________________
Shed
All winter
my father has worked
in his shed, mainlining tea
from a mug that says No 1 Dad.
He is steaming strips of five-ply sawn
from a pre-IKEA wardrobe; bending them
into shallow parabolas in an upcycled ribcage;
the Primus is bubbling stumps of regifted candles,
the fragrance of counterfeit Jo Malone (oud and bergamot)
harmonising with the lawn clippings on mower blades
and the reek of chicken shit from a bin liner stuffed
with the monthly pluckings from a poultry unit.
As all fathers must, my father is contriving
a fresh way for his son to come unstuck.
Some bellow from stark touchlines
at shivering keepers who'd have
agents queuing if the ref wasn't
blind and the manager a paedo.
Others finish half-marathons
with pony-tailed girlfriends
whose neon vests set off
their impeccable gristle.
Mine has upholstered
a neoprene harness
to a sprung frame.
Now he's waxing
a pinion feather
to the aerofoil
of a strap-on
wing.
Nick McKinnon
__________________________________
Irene tells Mama about the Holocaust
Rather than turn it in
to the high command
rounding up instruments,
the Czech musician
ripped off the strings
of his lute, bashed
the deep round back
against a wall, then,
weeping, snapped
its slender neck.
How sad, Irene says,
for a musician
to feel so broken
he chooses to destroy
what he loves
rather than let it fall
into enemy hands.
How sad for the lute,
Mama says, in love
with things. Irene
looks tenderly
at her yellow ceramic canary
poised to sing
on the shelf. Wonders
what it would take
to make her destroy
what she loves.
How many blows.
Elisabeth Murawski
__________________________________
The Waiting Room
On this island, there are trees that bear fruit like women, with shapes, bodies, eyes, hands, feet, hair, breasts, and vulvas like the vulvas of women. They are the most beautiful of face and hang by their hair…when they feel the wind and sun, they yell, 'Wāq Wäq', [help help] until their hair tears apart. When their hair tears, they die. Ibn al-Wardi (d. 1348 ce)
We sit – an atoll of women – gently
metastasizing like slow-to-ripen fruit
beneath the strip-lighted pulse
of this wave-filled coast, archipelago
of scan, x-ray, magnetic resonance.
In this forest's bloom, we wait, hollow
as calabash, thumbing mounds of Vogue
and other fabulas of paradise that recount
little of how to stem lava flows or build
boats out of small pieces of wood.
The world flits around us in coral scrubs
and Crocs, exotic birds singing out
our names, our date of birth, clocking
our descent in cubits of hair length
while we learn what it is to be marooned
to forever button, unbutton our clothes
until we are just a back-lit negative of tree
shadows on a chart, sum of our disposable
parts: stroma, lobule, areole, ovary, bone
lymph, breath, wind, sun, the roar of a full moon.
Mary Jane Holmes
__________________________________
Oxygen Concentrator
(with 3 lines from George Low's 'Fauna Orcadensis')
My mothers breath rasps through the gurnard's terminal mouth.
This fish, a very quick swimmer, when hauled on board,
makes a sort of croaking plaintive noise.
My mother's breath rattles in her throat. The gurnard thrashes
and this for some considerable time.
No ease either, for the whale trapped among Brian's creels,
snagged in the lines.
My mother's lost the word for haven, when she grunts something,
like an angry person growling.
Margaret, we call. Fieldfares look up, moving past
the noise of the oxygen concentrator.
Lydia Harris
__________________________________
short biography
I was born in carshalton my first home
was above a shop in banstead my mother
was a corset fitter later a poodle clipper
and my dad sold disinfectant in those days
driving around in a black ford popular also later a dark green humber
our cat was a siamese called donorae little paws
and our alsatian dog had two litters
in 1965 dad started selling vending machines
and disposable cups soon he had a fleet
of vans and white ford consuls in the days
of yellow pages once my mum crashed into a bus
right outside the mounted police academy
she was wearing her nightie under a coat
she was taking us to school then she fell
in love with a police dog handler I heard dad
crying high like an animal in the night
and when I woke in the morning a bird a wren
or a sparrow was flying above my bed
Kay Syrad
__________________________________
A small, weathered path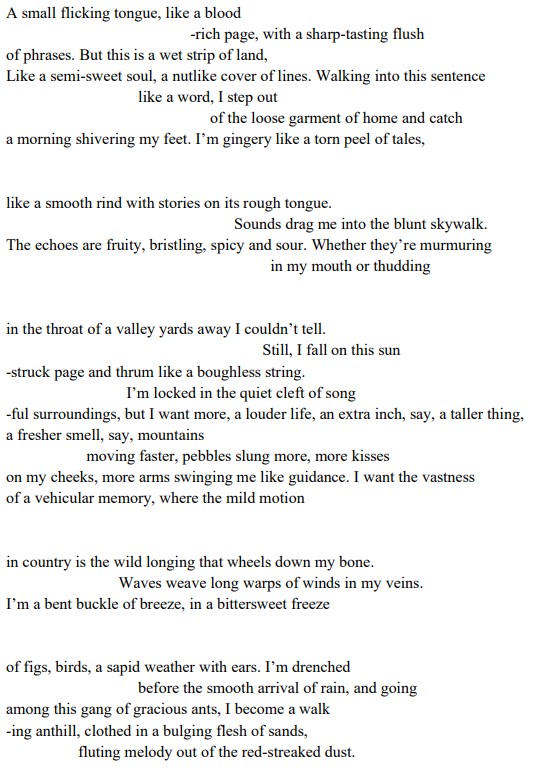 Samuel Ugbechie
__________________________________
The Loneliness of the Long-Distance Runner
He sees pellmelling loneliness in the centre of grouphood
(Golden Shovel poetry after Gwendolyn Brooks' Young Heroes)
Before the run begins there is a lull in the changing-room badinage: and he
takes a few minutes to think ahead to the solitude, which he sees
as a vital component of the challenge in this battle against pellmelling
rain and sleet on a desolate winter race with its own full-measure of loneliness
when all he will feel is his outgoing breath on the friendless air and the in-
take of cold inspiration spurring him on like a prayer under weeping trees the
season has cheated of leaves. For he understands there is no centre
of the Earth that is fiery enough to warm his heart or cure the numb ache of
his limbs as he aspires to win by discarding the mantle of grouphood.
Yet later, far from the madding crowd and Melling Road, he
spots the lads unsaddling horses to race the incoming tide; and one sees
in his eyes a longing to ride bareback, like Che, pellmelling
across the straggle of seaweed and driftwood consigned to its loneliness
by the surge. Yet it's hard to imagine Guevara so far from home in
this quaint little Irish town overlooking the beach, though the
sea-front at Kilkee still boasts an image of his face centre-
stage on the promenade; while horses pace the sand, stripped of
their saddles, galloping wild and free, touching his soul with their grouphood.
Carolyn King
__________________________________
The Chastity of Aunts
Anyone who has the temerity to write about Jane Austen is aware of [two] facts: first, that of all great writers she is the most difficult to catch in the act of greatness; second, that there are twenty-five elderly gentlemen living in the neighbourhood of London who resent any slight upon her genius as if it were an insult to the chastity of their aunts. — Virginia Woolf, A Room of One's Own
and yet aunts are promiscuous as
winter breaths mingling on the street.
No one can stop them issuing forth
from their auntly accommodations
and who can disentangle them from their desires?
Who doesn't remember listening at the keyhole
to gentlemen relishing aunts in the afternoon?
Or blushing at a particular aunticular browsing history?
Who else but an aunt can and will explain
– with examples – what 'transamorous' means?
For every smile, aunts have ten tears;
for every caress, a little slap; for every grief, a glass of gin;
for every tumult, something in the bathroom cabinet.
Know the legion of aunts by their paint-stripping swears,
their Jane Austens and their Erica Jongs thin with thumbing,
the items of splendour in their underwear drawers,
the endearments dripping from their toned tongues,
their fingernails like archaeopteryx's,
their eyes like opals falling through snow.
Aunts' elbows are turnstiles, their cats of uncertain provenance,
their perfume unpronounceable, their powder dry,
their laugh like the washing machine's final convulsion.
Their heels are pistons of industry; their knees are conch shells;
their chefs eschew television; their bookie's on speed-dial.
Michelle Lovric
__________________________________
A Middle Age
If a certain age is a rite of enclosure, then I am complicit
in singing the ordines of the Marthas and Marys ahead of me.
Now comes my turn to process from church, through cemetery
and towards the reclusory cell, where I stand at the door's hover.
I satisfy this vocation with silver in my hair, running like fish
down knives and all drops from this body but eggs, caviar of youth.
According to the rubric of the ordo, I have passed the litany
of sweet repeats – Past it, Past it – and listened to Isaiah's lesson
and to Luke's needling gospel; I live to hear my burial mass.
Then, at the Extreme Unction, my cell is asperged and censed,
and I lower myself to a shallow grave while dust is thrown
and a song of patronal antiphons rings In paradisum, In paradisum.
I follow in the trail of the silver invisibles to the hold where
it's less that I'm sealed off than a bliss freed. I cannot be reached.
Sarah Roby
__________________________________
Biography
Enamoured, as he was, of melancholy cadence,
And desiring to shore in himself what was insecure
With what lay to hand, as anyone will;
Displaying a wit which isolation could make bitter;
Concealing, as we do, some ugliness of mind;
Enslaved by ordinary erors into ordinary unhappinesses,
While wishing not to be ordinary at all;
Sensing always the unknown, unknowable door
To be sought by indirections down un-signposted lanes,
He survived his blunders with some personal damage
And the usual distribution of trouble and hurt,
Wrote his confusions into a kind of submission,
And, knowing always the seductions of surrender,
Adopted an orthodoxy which at least
Made of uncertainty a more welcome guest;
Became a monument, a doubting Ozymandias,
Sounding more certain than in truth he was;
Unwrote from his life some nastiness of heaft,
(Hypocrite auteur notre semblable, notre frére),
Laid down the burden of being alone
And found a startling late joy as his labours ebbed;
Left a change in the shape of things,
ln the heft of speech, in the swing of lines
Permissive of the almost said
That rattle in the brain for years,
Curated with care his griefs and guilts,
And found himself, at last, in the empty schoolyard,
The echo of voices fading, the door to home behind him.
Les Jones
__________________________________
To the Person who Spray-Painted the Blackberry Bush
along the river, turning the green silver, and summer to winter,
my double-take for what seems, ten steps away, sunlight on leaves
and on zooming-in, turns pewter, dead and beautiful:
paint dog-poo silver, and I'll laugh for something made lovely
and still disgusting, 'a turd's a turd, however much you polish it,'
but this? Blood-pressure swarms the river, says don't be so high
and mighty, for pity comes too late to the aged, and shame not at all.
You must sit on the outside step with humility a long while to hear
the message: yes, it's my lousy, authorial voice butting-in, judging,
as if I could know he was young, as if I know he was a 'he'? Or alone?
Call me out if I'm wrong but tell me why the leaves, why the berries,
their dimpled surfaces, the sweet purple droplets ripening and lost
to the waves by lunchtime, these fleeting, rich heirlooms, why silver
such beads? You had the paint to tag the bridge, impress your mates
or a girlfriend, and something to drink, a smoke, a fun thing, yes? No!
Is this piety? I don't mind the graffiti covering the concrete, the words,
with a Billy-Goat Gruff abruptness, saying PEEKABOO, showing
understanding of time-passing and time-repeating with each passing
person and foreseeing the time when, under the arch I too, look-up
and see the small joke, the childish and smart in the shadow of a span,
the brownish river drowning tree roots in white-flecked coils.
Ken Evans
__________________________________
Morality, Play Over There with Mortality
'The calculator assumes greenhouse gas emissions of ¼ tonne CO2 equivalent per hour flying.' — carbonindependent.org
On the mattress earth I was Mankind, sprawled CO2.
Out of the shower I was almost just myself,
greying, thinking
of what'd have to be packed for the flight.
I'm always being washed – mostly
away. Self after cell. A few hours off, we'll step out
and disperse into the world –
the best way to be clean is to be dust.
Ben McGuire
__________________________________
Some Ways to Love Them
When the foxes bark, linger long at the light switch.
Walking, seek fervently that perfect fit of hand in hand.
At any o'clock, drop your hat and chase the wishie seeds
they've foofed from their dandelion to see where they will land.
When they bring their sleep to you, hesitate to lay them down,
hold their sleeping self like a Dior gown in your arms.
At the fever's call, bring them home to your skin again.
Though each kiss evaporates, still brand them with its charm.
Insatiable swat, map their body, watch each quirk,
learn their whole by heart with a scholar's intent.
Every morning, see them as if they are new again,
be awestruck at their fingernails, be desperate for their scent.
With them, with each other, play headlong, with abandon,
in thanks for the gift. Grasp the joy, every sliver.
Even in your anger, love with purpose, with the need
of salmon swimming home against the run of the river.
Angela Cleland
__________________________________
When My Ex Became My Stalker
It didn't really help, the story of Othello and Desdemona
and Iago and poison in the ear and though our teacher
taught us about poor Desdemona, bad Iago, Othello escaped
almost blame free, possessed by jealousy, driven into a state
so when my ex became my stalker all the boys in class ignored me
and every lesson he looked through me until the evenings when he
was drunk and in a nightclub and then he'd ring and start to cry
and try to find out where I was or where I'd been, asking why
I wouldn't listen, why I'd stopped picking up the phone.
Sometimes I answered it with silence, imagined him alone
listening to my nothing. That year of A-Levels, I got myself a stalker
and the police said aren't you flattered? In the station there was laughter
at the forty phone calls every day for weeks. He said that I'd agreed to
be with him forever, and then I'd changed my mind, what could he do
but become my stalker and wait till darkness fell and slash my father's tyres
or call fire engines to my house though there was nothing catching fire.
When my ex became my stalker, he convinced my mum to let him in
then locked himself inside the bathroom. It felt like I'd let him win
even though it finished with him in a police cell because of texts
he'd sent with threats and words like kill and guess what happens next
and so the police kept him overnight to think about his actions
and rang his mother who had no idea how any of this happened.
Kim Moore
__________________________________