Troubadour International Poetry Prize 2022

The following prizewinning poems were chosen by our 2022 judges, Victoria Kennefick & Joshua Bennett, & announced at Troubadour International Poetry Prize Night Online on Mon 5 Dec 2022 (see judges' reports & poems below).
First Prize, £2,000, My Grandfather's Car, Jonathan Edwards, Crosskeys, Gwent
Second Prize, £1000, Folds, Anna Crowe, St Andrews, Fife
Third Prize, £500, A Change of Scene, Robert Maslen, Bradford, West Yorkshire
       
Commended poems:
Mary, Amelia Loulli, Penrith, Cumbria
Ossory Road, 1980, AM Cousins, Wexford
Bone and Foliage, Ben McGuire, Bray, Co. Wicklow
My Father Said 'Given a Chance, Nature Wants to Heal', Christina Hutchins, Albany, California
Trans Man Buttons Up His Shirt (After Giving Away All His Dresses Invisibility At A Garage Sale), Court Castaños, Woodacre, California
The National Audubon Society's Singing Bird Clock, Craig Martin Getz, Barcelona
Hold me Like Your iPhone, Deborah Finding, Chiswick, London
The Remains, Dillon Jaxx, Bexhill-on-Sea, East Sussex
Half-Blind, Elizabeth Herron, Graton, California
Last Tuesday, Jo Davis, Walthamstow, London
A Poem That Grew from a Mistranslation of Some of the First Lines of the Poems in Claribel Alegría's Sorrow, Judy Crowe, Nevada City, California
Algebra, Kate Scott, Bridport, Dorset
Montage, Kayleigh Campbell, Castleford, Yorkshire
Return to Germanika, Greece Without You, Lisa Dart, Eastbourne, East Sussex
Did You Write?, Mark Fiddes, Dubai,

UAE

The Daughter Calls, Nessa O'Mahony, Dublin
July, Nicholas Hogg, Leicester, East Midlands
To Sir William Gull, Nicola Healey, Buckinghamshire
Kensington Central Library (Red), Sara Nesbitt Gibbons, Carshalton, Surrey
Turning Twenty-Five in a Noah Baumbach Film, Vasvi Kejriwal, Clerkenwell, London
2022 judges' reports
Victoria Kennefick writes…
I think everyone should have the opportunity to judge a poetry competition, the submitted poems form a secret portal of sorts into the collective unconscious of a large group of people – in the case of the Troubadour International Poetry Prize, a cast of thousands! What a snapshot of interior human experience and what a privilege and honour it was to have the opportunity to read the poems, hear the voices, follow the language, and peek at the issues, insecurities, joys, horrors and hopes of us all. I was moved and amazed by the variety, scope, and ambition of the work we received. I fell in love with the words and the emotions the poems invoked in me, crying with a poem, laughing with one too. There were poems about birds – each one beautiful in its own way, no two poems about birds the same – and a shared sense of how we need to protect them and the songs they sing for us. Poems about death, divorce, illness, childhood, nature, and the sea flowed into poems about technology, holidays, and kissing.
How did we take these thousands of poems and distil them into a shortlist? It's not a job for the faint-hearted and it certainly wasn't an easy task to longlist the poems, never mind shortlist them. I was blessed to share this undertaking with the very brilliant Joshua Bennett. It was such a joy to discuss the poems with him, to see how quickly we shared enthusiasms for the same submissions, making sure that the list represented the best of the themes and styles we read across the entries. Our shortlist came into being slowly but with relative ease. 'My Grandfather's Car' by Jonathan Edwards was our clear winner. It is a glorious poem in both theme and language, recalling all the old jalopies we all encounter – how they become one with the driver over time – the grandfather's wing mirrors, 'wept/his sadness out in big brown tears'. A vessel that holds the vessel of another become enmeshed with each other, and the speaker uses the vessel of the poem also, to hold what cannot be said. It is a very special piece of writing indeed.
Anna Crowe's 'Folds,' dedicated to her sister, is a compact, beautiful and devasting poem. I couldn't stop thinking about it once I had read it and its depictions of skin, 'dust-jacket/pelt, love's Sunday-best.' It shows us the intimacies shared by sisters, as they 'peeled long strips of skin/from each other's backs' and how this act sets us up for the unforgettable and uncompromising ending, 'too much sun will cook you;/that flesh is meat, and skin a piece of crackling.' The unsettling sensuality of those final lines lingered in the air around me for weeks.
I was struck by the elegance of Robert Maslen's 'A Change of Scene' – by how beautiful it looks on the page and by how it lightly moves from stanza to stanza. It is a wonderful poem to read aloud, with moments of such clarity it can be breath-taking, 'the moor's ecology of patience/evolved with you in mind.' I am enchanted too by the alliteration which underscores the poems thematic intentions perfectly, 'the cosmos as a cave in a canyon.'
The shortlist is a delightful assortment of poems utterly different from one another, perhaps only sharing the fact that we loved them and being all the stronger for that. It only goes to show that good poems come in all different shapes and sizes – there is no one way to write a poem, rather those that are listed here are true to the poets' own sensibilities and voices. The effect is intoxicating and so exciting!
Judging this year's prize was a dream. Thank you to Joshua and Anne-Marie Fyfe for making it so and to all the poets who submitted this year making my job such an enriching and enlightening experience. Please, keep writing!
Joshua Bennett writes…
I've been teaching a poetry workshop this term that doubles as both an introduction to the craft as such, and a larger meditation on the social role of environmental writing in particular. It was within this context, thinking about the ancient craft we have gathered together to undertake—in bars and cafes, quiet rooms, moments of world-shattering grief and unabashed joy—that I read the poems submitted for this year's competition. That is, with an eye toward the elemental qualities of what brings a poem to life, as well as the lives a given poem can hold or call into being.
The chance to do this work in collaboration with a generous, thoughtful colleague like Victoria Kennefick was truly a joy. Sincerest thanks to Anne-Marie Fyfe for inviting us to work on one accord. I want to also thank the hundreds of poets who submitted to this year's competition for sharing this collection of treasures with us. In reading with Victoria, and then talking through a process by which we might present a set of winners that represented not only a handful of favorites from our pile, but this year's competition as a whole, I learned a great deal. We sought, herein, to include work that covered a great distance: poems centrally concerned with love and loss, the indomitable beauty of the natural world, the history of art, the costs of war. This year's prizewinners and commended poems, we hope, reflect this breadth.
After reading our first prize poem, 'My Grandfather's Car,' I paused for a moment, and took a walk around the neighborhood. It was one of the more moving poems I have read in some time. It transported me back to the concerns and questions that first brought me to the page as a young writer, looking to transform the music and imagery of my surroundings into a language worthy of sharing with friends, family, and strangers alike. I felt a similar sensibility resonate throughout so many of these poems. They all welcomed us into unfamiliar worlds, and did so with astonishing precision, ambition, and care.
2022's Winning Poems
First Prize, £2,000
My Grandfather's Car
The suspension was the suspension
of a pram, and the air inside was flavoured
by his roll-ups and his working day, and the air con
was the gammy window you could never quite do up
all the way, and the heating
was a running joke, and each wing wept
his sadness out in big brown tears of rust. I could say
so much: the way he turned the engine off
on top of Blackvein Hill and bobsleighed down, or how,
going round a corner, he had to factor in the car's
thinking time, how his exhaust
was a foggy day, the tax disc a problem
with the postal service, how the indicator lights
liked to make their own minds up about things. By now,
it'll be what, broken up for parts, or gone
to seed, to pot, perhaps
it will be renovated, polished, pimped
by some beard-twiddler who isn't him. In my mind,
I can still reach out now, through thirty years, take the chrome
handle of the door, which opens
like this, like so, with a heave and there, in front of me,
is a world that was: the upholstery, whose wrinkles, cracks,
my mind made rivers of, the seat a map
of everywhere we went, the cigarette lighter
which toasted itself, and popped, the windscreen's
variety show, the gear stick, big
as a dinosaur bone. The passenger seat
tips up, and this is the place
where I sit, here, swinging my legs
over the edge and gripping so tight
a steering wheel made of air, which dangled
before me in my mind — I held it through every
corner we turned, looked up to check and check again
if I'd got it this time, at the back of a head, at the braced
and balding man who laughed and moved the world.
Jonathan Edwards
__________________________________
Second Prize, £1000
Folds
            in memory of my sister
            The folds in things,
            the folds in our flesh, folded
            between memories.
            Francesc Compagne
Seven weeks since the biopsy and still no result.
It's weird stuff, skin. You don't really see it
until it's almost gone, gone slack, transparent,
revealing veins and tendons like a map
of somewhere seen from the air, seen through
a thin film wrinkling like water ruffled by wind.
Now that this once-lovely layer — dust-jacket,
pelt, love's Sunday-best — has begun to erupt
in lesions that need to be surgically removed
and soon, who knows if it can go on holding
everything in, in place, before some memories
slip from between the folds and are lost.
You and I, allowed to burn each summer,
at bedtime peeled long strips of skin
from each other's backs, limp strands adhering
to fingers as though reluctant to leave us – years
before it dawned that too much sun will cook you;
that flesh is meat, and skin a piece of crackling.
Anna Crowe
__________________________________
Third Prize, £500
A Change of Scene
Windmills, raised in heather, speak a dialect
of rests and pauses. They prefer
glimpses to the view, as we do now,
feeling our way, and there's no shame in it,
no harm in letting a flock
of mist envelop you now and then
in its turmoil. Another way of looking
at this is your coat,
your brother's, once, a hand-me-down
with a hoard of grubby fleece in the pocket
you always liked the look of.
It came your way in the end,
as if the moor's ecology of patience
evolved with you in mind.
Fortune, in its many guises, you see,
ebbs and returns, goes slack,
and rushes in, and long
inured to the climate, these causeways
tolerate a history. Seers,
shepherds, mendicants, legionaries,
loons and levellers mingle here, motes
in the bell of an hourglass freighted with light.
Let it happen on us here,
a stranger, so sudden, so absolute
and vertiginous, like a fistful of helium
balloons, distributor
of the common ground instantly — fells
plump as lambs at the heart of their living,
reeds ruffled with momentum,
pools of patinated time. On cue,
the prophet of the spring sky joins in,
urgent as a thaw-water beck.
There's something to be said for everyone now.
Look at me! Look at me! – you
and the lark ratchet up
through the sibling harmonies, till all
the wavelengths pierce us at once and every
percept is a gift. I'm given
to seeing the moor these days as the cosmos,
the cosmos as a cave in a canyon,
its walls printed by absent
hands, and the blood still warm, and this thought
as wide to me, as dear, as your first picture.
Robert Maslen
__________________________________
2022's Commended Poems
Mary
I'm at this party being ignored, standing at the buffet while on the stage a man is cutting a pregnant woman's hair with an axe, I tell everyone — motherhood is a country you can't leave, like this party, but they are all spooning mayonnaise onto their plates, smiling, it's a Halloween party and I've come dressed as God, which offends some people who know him personally — faith is a mouth, I tell them as they eat sausage roll after sausage roll, I say —last night I had a dream that Jesus was aborted, that Joseph promised Mary he would get her out of there, didn't matter how, that he would take her some place, that they'd steal a car or a donkey if they had to, but he didn't show, and Mary — who was also my best friend — came to me, appeared to me with her brown hair plaited in a halo, so I took her, I told her do not be afraid, and the surgeon hovered at her feet, a messenger with a suction tube, and the Jesus in her womb vanished without a trace, I'm telling this story but everyone is busy watching the pregnant woman kneeling on stage, hair draped over a wooden block, the axe, feathering.
Amelia Loulli
__________________________________
Ossory Road, 1980
At dawn the lowing broke into my sleep
and I dreamt I was in Wexford —
my father was herding his cows,
hup-hupping them into the cowhouse,
keep moving, keep moving, good girl —
just before the baby woke and I opened my eyes
in the little house behind the abattoir on Ossory Road.
All day the cows pressed their desperate muzzles
to the rust-holes in the galvanized wall
that separated our yard from their holding pen;
at night, when a miasma of burning flesh and scorched hair
bellied out over the North Strand,
I prodded your back,
hissed into your ear
that the stench of rendered fat
would smother our child.
Nights now, I find myself moving through that house.
The kitchen window is still the buttercup yellow
I painted it before we left.
Then the back door opens
and a poppied meadow shimmers to the horizon.
AM Cousins
__________________________________
Bone and Foliage
            to my surgeon Olivia Flannery
A road crash left me with a rusted elbow.
Some gold would be mixed in as recompense.
I still contain what brought the bones
union: plates and pins.
In scans' monochrome new bone
looks pale, like trees' new green.
What's been implanted shows
as white lines.
A second operation. Painful budding. Then
no-pain, like negative space, a chime
or an old grin;
now, or for now, it's all the time.
In behind the Spar the gesture of an oak
parades a mystery, one that somehow still persists:
we grow. After December now, the branches look
like brindled ghosts.
The trunk is knuckled muscle, but
around the skittish twigs —
picking out
entry points — is the spring.
Leaves on one bough, rusted,
past seasons. Soon,
across the other branches,
sunlight will be plinking off new shoots.
Ben McGuire
__________________________________
My Father Said 'Given a Chance, Nature Wants to Heal'
Coyotes trotted the financial district of San Francisco
in the world lockdown, when the animals began to return.
A puma slipped down the Andes, leapt a wall, & roamed Santiago.
Monkeys & elephants surrounded the Indian President's Palace.
Early in the lockdown, the animals began to return.
Elk frolicked the vacant Oregon Coast & swam there.
Monkeys & elephants surrounded the Indian President's Palace.
& a pack of jackals occupied an urban park of Tel Aviv.
Elk frolicked the vacant Oregon Coast & swam there.
The Golden Gate omitted its cars, the Bay Bridge did, too,
a pack of jackals occupied an urban park of Tel Aviv,
As a virus forced human cells to replicate it & us to hide.
The Golden Gate omitted its cars; the Bay Bridge did, too.
In Yosemite, brown bears & white-tailed deer sauntered Valley roads.
When the virus forced human cells to replicate it & us to hide,
the negative capability of an emptied world emerged.
In Yosemite, brown bears & white-tailed deer sauntered Valley roads.
In Venice, canals clarified, & silken dolphins returned.
The poetical character of the once human world emerged,
& a fawn gamboled through Berkeley, white spots down the Avenue.
In Venice, canals clarified & silken dolphins returned,
& when that turned out to be untrue, I didn't really mind.
A fawn gamboled through Berkeley, white spots down the Avenue.
No irritable human crowds inhibited the world's imagination.
& when that turned out to be untrue, I didn't really mind:
boars galloped Haifa sidewalks, & peacocks strutted Ronda, Spain.
No irritable human crowds inhibited the world's imagination,
while in South Africa, lions napped in the middle of the road.
Boars galloped Haifa sidewalks, wild peacocks strutted Ronda, Spain.
Close beside the stilled Port of Marseilles, whales breached & played,
In South Africa, lions kept napping in the middle of the road.
One species absent, the overused world renewed, capable of mystery.
Close beside the stilled Port of Marseilles, whales breached & played.
Wild Welch goats clacked Trinity cobbles. They stood on statues.
One species absent, the used world renewing, grew capable of mystery,
& with every tourist gone, rare leatherbacks arrived on Thai beaches.
Wild Welch goats clacked Trinity cobbles. They stood on statures.
Those tortoises only lay eggs in the dark, when there is no movement,
& endangered leatherbacks claimed Thai beaches. The Hong Kong zoo,
quiet, giant pandas a decade together finally began foreplay & mated.
Christina Hutchins
__________________________________
Trans Man Buttons Up His Shirt (After Giving Away All His Dresses Invisibility At A Garage Sale)
I'm wearing summer night sky,
the kind of sky that leaned down
to spy on my first kiss, sixteen
in that treehouse — the kind
of sky peppered with baseballs,
seams busted, cracked and whistling.
Fireworks you can carry
in the palms of your hands
pop across my shoulders,
rain down my back and chest:
teal births magenta births gold.
And there is mint here and
here is cold hose water,
here are too many strawberries,
my hands are stained red.
Court Castaños
__________________________________
The National Audubon Society's Singing Bird Clock
Maybe it was the Mockingbird my father heard
dying through the bathroom wall;
maybe it was the Black-capped Chickadee
with its Hey Sweetie, Fee Bee, Listen to Me;
or the Cardinal, blood-red from tip to tip,
its beak poking through its masquerade,
a syncopated shrill, even low, like a drill in his brain;
the Downy Woodpecker, pik-pik-pik, chik-chik-chik;
or maybe it was his grandmother's voice, somehow
reincarnated, deep down in the Canadian Goose
calling Dickybird in from an approaching storm;
the House Wren,
the American Robin,
the Tufted Titmouse,
or the good ole Oriol
hailing from Baltimore… where now even I must fly;
or maybe it was midnight
and the last bird my father heard
was the Great Horned Owl, calling out through
the bathroom wall, three times in all,
the word who, repeated though forever vague
if it's asking you or telling you who
before swooping down, the silent masterful
hunter
with open talons,
and taking him up into the dark blue trees.
Craig Martin Getz
__________________________________
Hold me Like Your iPhone
your firm hands wrapped around my body
tilting me towards your face
look at me
intently
scan
for signal
notifications
new messages
and those you can see but haven't read
focus your attention
make words from my disparate letters
thumbs on both hands working
together in an intricate dance
forget the outside world
keep your head down
activate voice recognition
call for me
ahh baby
hey siri
whatever
Deborah Finding
__________________________________
The Remains
at the time you died I had not eaten meat for fourteen years
but at your funeral buffet I found myself grabbing slices
of flesh from the charcuterie board where they were fanned
in pretty patterns and stuffing them in handfuls like gauze
into my blunt force trauma     to try and stop the bleeding
it was one of those moments that people describe as having
no idea what came over me      less than a conscious
decision or maybe more than after all I had been married off
at eight dressed in white and lined up like paper fledglings
we were being prepared to eat the one that saved us     to unfold
our most tender selves whilst eating the body of a man who hung
above our kitchen table     bleeding into our family
dinner     take this body and eat it in memory of me and they took
your body and what was your memory of me? That January day all frost
and gristle     you filling that hole in the ground     me eating the remains
Dillon Jaxx
__________________________________
Half-Blind
Blind old Tiresias lost them both,
and there was Oedipus of course, and Homer,
not to mention Lear. Half-blind too
is a price for seeing. There's Odin,
one eye thrown to the well to pay for runic wisdom,
and Creeley mumbling, his good eye on the page.
I keep one eye cocked like an ear, the other
waiting — a blind eye turned toward light.
Elizabeth Herron
__________________________________
Last Tuesday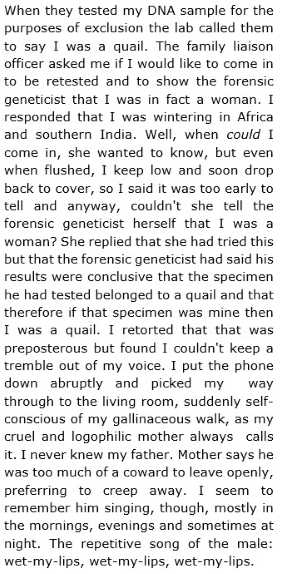 Jo Davis
__________________________________
A Poem That Grew from a Mistranslation of Some of the First Lines of the Poems in Claribel Alegría's Sorrow
My grandmother told me a story about a kind of butterfly
that sings, one of the Gossamers. Only special children
and old women can hear their angelic voices.
It is the sweetest, airiest sound, rather like a baby's
Mrrr -ing in her sleep, perhaps a question for the angel
who watches over her and whispers about the way
to be in this world. They say a smiling sleeping baby
is dreaming about angels. I always knew I was one
of those children, a lovely flower whose name begins
with G—It might be Gardenia, I cannot remember.
You were from the sea; I did not know the seas,
but you lived in my pocket. My labyrinth is a circle,
yours all kelp and foam and angles, so I invented you
in the garden where I lived. Today is the night of my
sadness. You were my other me. When you went away,
I left my home to try to find you. Today is the day
of the Camellia, so I climb the hill. I say the word love.
What will it be like when we meet again? Everyone talks
to me about death. I do not want to live forever, and I, too,
die a little every day. I do not want to live with your ghost.
They say that death is solitary. I am not alone. My past
is with me, and if I fall asleep and dream that I am dead,
you will be there. My Gossamer wings are sure and luminous,
my petals fragrant. My angel's song is happiness. Give me
your song, your light, your warm hand.
Judy Crowe
__________________________________
Algebra
X was out with a friend
we'll call the friend Y
they had a few drinks – okay a lot of drinks
had a bit of fun
– okay a lot of fun
met two guys
let's call them R and P
went back to their place
Y was kissing R downstairs
while X went upstairs with P
where P held a knife to X's throat
and pushed X to her knees
X didn't tell Y
until years later
X kept it to herself
thinking it was her fault
she'd had a few drinks
– a lot of drinks
had a bit of fun
– a lot of fun
gone home with P
willing
until P wanted more than a kiss
and didn't want to ask
Your questions:
How long does it take X
to stop remembering that night?
How many times do you think P
has ever thought about it?
Show your workings.
Kate Scott
__________________________________
Montage
Reservoirs and orange peel, a mother
anchored to her squashed chicks, our bodies
as sculptures. Meerkats. Deckchairs on
overgrown grass, graffiti planets, a woman
slipping on a banana in real-life. So much blossom.
A mermaid cradling a fish with a skull face,
Christian Bale's white teeth. Christian Bale's
blood-spattered face. Meerkats. A woman in a living
room in her homemade den. Bubbles, Chickenpox.
A shark filled with polyester floating in a bath.
A woman with rock pools for eyes. A painfully lovely
Swedish bathroom in the middle of a national park.
Meerkats. Croissants in deckchairs. A girl with the whole
sea in her hair; a flotilla of turtles, a narwhal.
Letter M birds passing overhead. The blind in the bedroom
breathing in then out against the windowsill.
A toucan riding a bicycle, you laughing,
the night drawing in.
Kayleigh Campbell
__________________________________
Return to Germanika, Greece Without You
When first I heard about her daughter,
and the compact white chapel with the blue dome, where,
not far below, the water laps beneath the pine tree grove —
When first I heard, I wondered how,
where tamarisk roots twist long and black down
the crumbling coastal path, any mother could come back —
When first I heard where, I did not know much
about death, nor the shut-off, shocked aftermath.
I knew Greek heat, goats, church bells, Homer's myth —-
When I first heard, I imagined the hottest night, where jasmine scent pervades the stillness of the perspicacious dark
and the sea, rhythmic, tidal, goes on and on, not like the heart ——
All this, when I first heard. Now I, too, am back
and walk around that coastal path. Spring flowers — margaritas, statis,
poppies — make a wreath. You always swam in the place where
she fell, late at night breathing only shallow water. Alone,
I stand by the chapel now, where I have learnt that to return
allows love's valve to close and open up the cataclysmic grief.
Lisa Dart
__________________________________
Did You Write?
Physicochemical Property Labels as Molecular Descriptors for Improved
Analysis of Compound-Protein Networks.
No. But I did write
a poem about the sex life of seahorses
from which there is still much to learn.
Likewise, lampposts, certain ferns,
losing my job and Paco de Lucia's guitar
at the Festival Hall which had the sound
blood would make if it had strings.
Open tuned, wounds would have it too.
To each arpeggio slap and clatter,
an old Andalucian in front of me
clapped and cried Olé!
Behind us the entire middle class
of Southern England shushed
like the brakes of a jack-knifing lorry.
After his kidnap by ushers in the interval,
I took the vacant seat
but his Olé! never went away.
I always carry it about my person
for when a train arrives on time
or a dog bounds a wall in one leap
or they sprinkle vinegar on chips
or an old couple passionately kiss
or they email again to see if I authored
Amazing Yeast: The Hidden Diversity of Dimorphic Fungal Pathogens.
Mark Fiddes
__________________________________
The Daughter Calls
The only legend I have ever loved is
the story of a daughter lost in hell.
          Eavan Boland
She doesn't visit often, though she says she does.
Each time I ask about her holidays she smiles as if
we've had that chat before; as if I'd forget.
I know when she's away; the leaves drop, the grass
turns mossy and the birds desert the feeder which
remains half-full, discarded seeds unsprouting.
Holes form in the lawn, some fox or other
looking for a back way to the underworld.
But she shakes her head, smiles to herself
as if I couldn't see her, changes the subject,
claims the remote is where it shouldn't be again,
that I've missed my morning pill, the red-purple ones
that stain my teeth. Who knows what they're for
or where she gallivants off to. I keep track
of her departure dates on the calendar,
the rising sun lets me know that she's returned
before the doorbell she says she's rung, chimes.
I bide my time, let her change the channel,
raise the volume as if I need to hear the news
she hasn't told me, though she says she has.
She needs a holiday, she forgets that much;
she'll return with stories as the nights draw in.
Nessa O'Mahony
__________________________________
July
In a classroom on Edgware Road, as the boys with bombs
catch London trains, I draw the layout of a Crown Court, representing justice
with a red marker pen. The students compete with each other
on spelling checks and survival stories. There is the man who walked
from Kabul to France
because the Taliban found his Bee Gees tape. A jumped up teen
smashed the Best of into pieces, while another held a gun
to his hairless chin, and promised to kill him
if he didn't grow a beard. When I ask him if he walked all the way
he tells me that he was born in the mountains. Although his friend
did die by the road in Hungary. Near Dieppe he climbed into a lorry
filled with tomatoes, and only got out when he heard English voices.
The Lebanese tailor, a dapper dressed gent in a three-piece suit, likes to brag
about the burning car that landed on his roof.
Now the fierce old Somali woman tuts. She has scars on her hands,
and face. Her house was pierced by an RPG,
unexploded, hissing on the floor like a cornered bird.
The Congolese giant nods. He hid in the woods and held his breath, watching
while his neighbours walked through the trees with machetes. And the Palestinian
artist, tortured by men who put a hole in his kidney with a hand drill.
But I really must stop the students here. We can't get started on the Eritrean
woman sold as a child bride, and how she crossed the border in a bouncing
truck, wearing only her wedding dress. And certainly not the Kosovan soldier,
a real talker, the one who met Tony Blair on a runway in Albania.
No. Not today. We have a test.
Nicholas Hogg
__________________________________
To Sir William Gull
In a work of psychiatry, only the patients' remarks interest me
          —E. M. Cioran, The Trouble With Being Born
We're often monitored. 'Watch and wait'.
This is like playing Titanic on repeat
and expecting the berg to move.
They need proof of impact, so they wait,
even though death's slide, like a sheet
of black ice, is often not seen.
It's deranged – measuring the mind
by our vital signs. Some scrawl S O S,
in bone or ash, but only numbers carry.
We were left to drown. And this jagged label,
hung like a necklace of teeth,
snags in my brain.
Take 'without appetite', from the Greek,
string with 'nervous' (Latin), seal
with the sure shellac of authority
and you ossify a distraction.
Return to origins: hunger strikes
in the threatened spirit.
Tell me the Greek for 'loss of agency',
the Latin for 'a starved soul'.
A term should touch the truth.
Consumption was recast as TB,
not left in the nineteenth century
to gather bone-webs of myth.
If more men had been dissolved by
this force, would doctors care
more about precision?
The name fits like a corset.
Miss A, Miss B and the unnamed case
would have coined it from the inside,
though I know this captor gags.
And even when aired,
the patient's word is rarely heard.
Nicola Healey
Note: The term anorexia nervosa, a misnomer, was coined by Sir William Gull in 1873. Miss A, Miss B and the unnamed case were his first recorded case studies.
__________________________________
Kensington Central Library (Red)
There are two rugs, one worn, one new. Each emblazoned:
Get Carried Away By a Book. I read here. I decode 30 years.
Mahogany fort with index, stamps and fines, gone. Here's
a kind lanyard at a help screen. CD section now tiny.
Here's where a man broke silence with an apple
and I made myself invisible on the window seat, looking
over the Great Piratical Rumbustification to Sticky Fingers.
We lost it all again and again and again, Kensington.
Here's the window seat, exposed now the shelf
and Hiawatha's gone. Still concrete breeze blocks.
Still the great, brass gates. They've always been locked.
My eldest on a cushion in the window seat, reading.
My youngest says, "Choose a different favourite," tugs
me onto the new rug, its same words. Get carried away.
Sara Nesbitt Gibbons
__________________________________
Turning Twenty-Five in a Noah Baumbach Film
Mother gave birth to me minutes after
she married Dad. She's still proud of how she'd found
an off-the-rack plus sized dress, last minute
diadem-crowned, she'd summited the glory
of both labour and wedlock at once, martyred herself,
shrieking, "I do, I do!" And now, when she talks to me of Dad,
she'll call him "That Man" and not "Your Dad."
She sits me down on our veranda steps. Raises her right
hand to make a Sign of the Cross as she tells me
that I must know of something—
something very big—I must know of how That Man loves
to clench his teeth at her. Then she goes on to show me:
her mandible runs loose, flexing down then up, one row
of ivories clicks tight against the other – tic tic tic – her eyes
glint hungrily, shiny like a dog's. She shakes her head
at the posture of his back (imagining him right
there in front), at the way it troughs and crests
like his many moods. And last month, he'd come home dumb
and drunk: each sundown- a full-bodied scent
clawed at his sleeve. She vents and vents. And the sky
rusts and reddens as it dredges up her rage.
While this happens, That Man bakes me a birthday
bribe: classic vanilla sponge, speckled
with my favourite cacao nibs. He tumbles in
just enough baking soda for the batter to swell,
rise like a sea of guilt.
As we eat, Mother mops her face, slugs down
her fresh-lime drink, salted like tears.
I notice: That Man's shadow falls
just as Your Dad's does; like Your Dad,
That Man does not forget to save me
softer parts of the paper dosa; to toast my bread the way
I like it (slightly more burnt than slightly burnt); to carry
a mulmul hankie, folded to reveal a clean square for offer;
Your Dad and That Man are alloyed into a single coin
but I cannot find its separate sides. As I lean forward
to grab another slice of Your Dad's cake,
both Mother and That Man lift their tired eyes,
toward me, in telepathic sync.
She glares. He beams.
Dinner is over. The plates mounted
by the sink, the sambar-stained rocking chair
nods in solidarity at the mucked up doily,
the stove, black and crust-laden,
their bodies have drifted upstairs.
Vasvi Kejriwal
__________________________________