Troubadour Poetry Prize 2015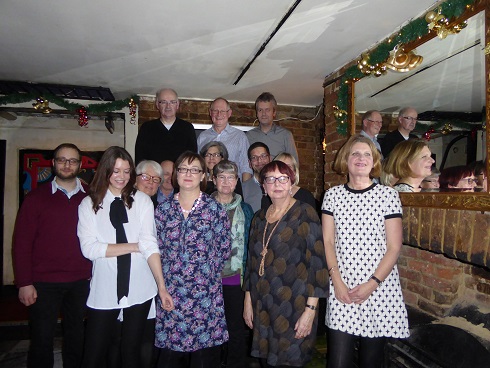 Some of our prizewinning poets (& judges) at Troubadour Prize Night on Mon 30th Nov 2015, back, David J Costello, Ian McEwen, Richard Meier, front, Anthony Adler, Tiffany Anne Tondut, Diana Pooley, Richard Douglas Pennant, Catherine Ormell, Barbara Marsh, Susan E Holland, John McAuliffe, Ruth Valentine, Jean Sprackland, Louise Warren
Sponsored by Cegin Productions
The following prizewinning poems were chosen by judges Jean Sprackland & John McAuliffe who read along with winning poets at our annual prizegiving event at the Troubadour on Monday 30th November 2015:
First Prize, £5,000, The Farthest Way East, Barbara Marsh, London
Second Prize, £1000, Calico, Ruth Valentine, London
Third Prize, £500, Icing the Heart, Catherine Ormell, London
& with 20 prizes of £25 each:
What Falls Behind, Allison Adair, Boston MA,

USA

Kitchen Poem, Anthony Adler, St Albans, Hertfordshire
Moth, David J Costello, Wallasey,Merseyside
Hope, Julia Deakin, Flockton Moor, West Yorkshire
Half-Barrel, Tom Dowling, Kyle, Co Kildare, Ireland
Birthday Cake, Ken Evan, Matlock, Derbyshire
Night Garden, Jim Friedman, Beeston, Nottingham
After You Died, Susan E. Holland, Campbeltown, Argyll & Bute, Scotland
Nobody In My Family, Pamela Johnson, London
You Know You Will Never Ride A Bike Again, Wes Lee, Wellington, New Zealand
American Shunting, Ian McEwen, Bedford
May Fair, Clive McWilliam, Chester
Back-Story, Richard Meier, London
Bird Belling, Rebecca O'Connor, Belturbet, Co Cavan, Ireland
You Wouldn't Credit It, Diana Pooley, London
He Slept Under a Tree Among Horses, Robert Powell, York
Death Longs For Its Own Garden, James Ragan, Los Angeles CA,

USA

The Last Darling, Tiffany Anne Tondut, London
Berry, Jessica Traynor, Dublin, Ireland
Cuthbert, Louise Warren, London
Judges' Reports
Jean Sprackland writes…
When Anne-Marie invited me to act as a judge for this competition, I was keen to say yes because of my admiration for the Troubadour and the tremendous work she has put in over many years to develop this thriving poetry community — it is a very special phenomenon. A competition is by its very nature an opportunity for poets to act as rugged individuals, fighting it out for the prizes, but this one is rooted firmly in a culture of co-operation, mutual support and friendship.
The first sift was a long but relatively easy process, but the task got progressively harder as I read and re-read good poems, well-made poems which engaged me in different ways. It was fascinating to see what people wrote about — the scope was huge, though some subjects did come up again and again. Often this reflected our shared sense of what is current, what matters most urgently in the world right now — lots of people wrote about the Syrian refugee crisis, for instance. It's challenging to write about subject like this in a way which doesn't preach to the converted, which stays true to the subject while offering a new perspective on it. At the other end of the spectrum, the same is true of poems about great works of art — they too need to alchemise their subject matter, to open out beyond what already exists and is already known. I found myself reminded again and again of what the French Symbolist Stéphane Mallarmé said: Poems are not made out of ideas, they're made out of words. It's not necessarily some ingenious device which brings the poem to life — the language itself is the crucible where the alchemy happens.
I think both John and I were drawn to poems which did not easily yield every last bit of their mystery. The winning poem, The Farthest Way East, kept us talking for a good while. We sat in a café in Manchester, letting our coffee go cold as we plumbed the depths of the poem. The reader is taken back beyond where memory can reach, to infancy, which, like the Canadian wilderness itself, is on the map but no roads are shown. The snow which literally eclipses the land also erases the experience, and the threads of connection and belonging are lost. The red of the father's jacket is the most intense point of visual attention in all this whiteness, but paradoxically both jacket and father are absent, "invisible". Like all the best poems, this one means a little more each time you read it.
There were many poems about the death of an elderly parent. The second prize winner, Calico, is characterised by a warmth and humanity that made it stand out from the crowd. Its focus is on the body, and particularly the face, of the dead woman, whose name we don't know until near the end of the poem, when it is spoken, simply and touchingly by those tending to her: OK, Maureen. The imagery is exact — her eyes are like fragments of bottle-glass/ ground rough by the sea — but it is used very sparingly. There's a naturalness to the writing which is far from easy to achieve, and allows the reader to look right through it like a sheet of glass and see what really matters.
Not quite death, but something very close to it, is the subject of the third prize winner, Icing the Heart. As the ice bath slows the metabolism during open heart surgery, it seems also to still time itself, so that we are suspended for a moment between what is and what might have been. In a poem, a heart is never just a heart, in the same way that an apple is never just an apple. But here an impressive balance is maintained: the deeper meaning is modestly implied rather than spelled out; the metaphorical is controlled and is never allowed to overwhelm the literal.
It was a particular pleasure not to be restricted to our three top favourites, but to be able to choose a further twenty poems we liked and admired. Looking through them again this afternoon, I was delighted again by their range and accomplishment. Beyond the twenty, of course, is another twenty, and another, and another. Congratulations to all the winners, thank you to all the poets who entrusted us with their poems, and a round of applause for Anne-Marie for making it all happen.
John McAuliffe writes…
Near enough 4000 poems took over the house. First the room I use for work. Then the kitchen, finally the bedroom, though not quite finally. When I got down to my initial long list of 120 poems, the smaller and smaller sheaf was walked around the house, made it in to the university and back again, up and down stairs, with my mind on line breaks, repetitions and images that seemed to come into focus soon after I'd set one or other poem aside for a while.
The number of poems in the time I had to read them 5 or 6 weeks, felt overwhelming. The poems themselves, en masse, were overwhelming. Patterns, real and imagined, began to emerge. I had a run of poems about hairdressers and barbers, which led me to start thinking if barbershops and hair salons were the places people got to sit down, without devices, and write, places they could be alone, productively. Other locations recurred. Coasts, beaches, edges. Hospital wards. Gardens. Some tree houses. Some ruined houses. New houses. Kitchens. Studies. Bedrooms. Sometimes it felt as if the poems were getting very close to the place where they were being read.
When I did emerge from the trawl of almost 4000 poems I had, as I said, a long list I whittled down before I exchanged lists with Jean. I was glad to see there was some overlap, happier again to revisit poems I'd somehow missed in my read-through. We spent a week or so with this final group of 40 poems and its fair to say I hummed and hawed and dithered over the ranking of the list we finally decided on.
These winning poems had, like so many I read, stories and life in them, but they also had the stamp of style, of invention. Their writers were making poems out of life, poems which seemed to discover things as they went along. In the three prize winners what I valued most was the roominess of the poems, the sense that it sometimes felt as if they were walking away from their subjects even as they drew you further along into them. These poems had the confidence to risk things, to try out jokes, to make noise when they might have been expected to behave themselves better. And as they did this, I felt addressed, or somehow included in what they had to say.
Rereading and reading them alongside one another, it was their distinctive sound and their vivid images I trusted. How they coped with the risks they took, without losing their balance, was what allowed me to be, finally, and encouraged by my conversations with Jean, decisive about placing these poems in the order we did.
Icing the Heart has a terrific, convincing speaker and an atmosphere which indicates that a lot is at stake: this minute and all of mine, and all of my son's/ run concurrently with a flower stall opening for evening visiting,/ a brothy supper infusing the wards,/ while the West End lights up.
In Calico, a word whose sound immediately had me on its side, the poem's shifting point of view is remarkable, it's subject first seen her head thrown back/as if snoring , as if/ stargazing, lying star shaped in a field before its lovely images drift into mediation and it returns to its initial scene, suddenly all business, Ok Maureen,/ we say, and lift the beech lid of the coffin/ lower it over the calico and her face.
Other poems had similarly brilliant shifts of tone and perspective, and The Farthest Way East really took off when its seemingly atmospheric description of geography and geographical separation turned into a poem about time, and memories that stay just out of reach, a child in snow falling on mittened hands, then up again, the snow so soft it couldn't harm anyone. It couldn't, could it? Which is where the poem ends. I also loved its description of a dog, as red, bounding, an elated streak in the snow.
2015 Winning poems…
The Farthest Way East
It is on the map but no roads are shown — none,
even on the most detailed geological survey maps. I turn
the folded travel clock over and over in my hand, recall
how it sat in his hands in so many Holiday Inns. I wish
for entrance to a town I never knew. We lived across the water —
a small bridge from the US to Canada, to New Brunswick,
across the Quoddy Narrows, near the Gulf of Maine — bears
and caribou, moose, elk, the white backdrop eclipsing the land
five months of the year. This is what I imagine: snowshoes,
ice-fishing, fleece-lined ear-flapped hats, everyone
a stumbling aviator, thick gloves wrapped our hands like bandages
and digging in pockets for keys carried the danger of frostbite.
The dog — red, bounding, an elated streak in the snow —
would have led me home, had I been detached from my tribe,
my tall family. I envisage myself there, it's hard to picture
anyone else — my brothers, who surely would have been
sledding or pelting us with snowballs, my mother, hands
clapping for warmth, my dad in his red and black
hunting kit, beam of a smile, this is his environment. Rifle
by his side. The point may have been the hunt. No one
will have mentioned the whiteout that could erase
everyone from sight, make up become down,
even the red of my father's jacket, if he had been there,
if I could see him in this picture, invisible. But when I look,
it's just me, small and swaddled like a mummy, running
stiff-legged through the drifts, falling on my mittened hands,
up again, the snow so soft it couldn't harm anyone.
That's what I would think, if I could think that far.
Barbara Marsh
Calico
She has thrown her head back
as if snoring, as if
stargazing, lying star-shaped in a field,
with bird's foot trefoil, speedwell, small bright things
hidden in grass around her, and the small
constellations above her. Her eyes are open,
clouded blue like fragments of bottle-glass
ground rough by the sea, since what she has been seeing
for eighty-seven years has scoured her sight
down to a reflection. We lift her off
the steel tray to her coffin, two of us.
Everything that used to weigh in her is gone,
the tunes she hummed over the washing-up,
the memory in her flesh of the two children
who grew within her and then outside of her
and then away; and her mind's memory,
the swing her father tied to an apple-tree,
the dog at the end of the road, the time her husband
stood at the door, a parcel in his hand.
We wrap the calico round her, tuck it in
over the hands with rose-pink nail-varnish,
the neat stitched place where the mortuary attendant
took out her pacemaker, since she had no further
use for its pace, and mended her again.
All this time she doesn't look at us,
she has other things to contemplate, or else
she's become contemplation. OK, Maureen,
we say, and lift the beech lid of the coffin,
lower it over the calico and her face.
Ruth Valentine
Icing the Heart
It was another story, absorbed unthinkingly, while I played
with her dressing-table drawer, dabbing a herby digitalis
on my tongue from one of the many soil-brown tubes messed-up
among the lipsticks, the blue-ribbed scent phial, Je Reviens.
She might have waited for the heart-lung machine,
only she couldn't. Post-empire, the nurses were aristocratic
sprigs killing a few years in town. But as brave as they were,
they didn't like giving the anti-shivering drugs —
while the bath was standard issue NHS.
(Excepting on this occasion, it was full of ice).
And the surgeon? Undeterred by a literal deadline.
Months later, when they'd both survived,
these were his tips: some light flirting, some black humour.
Mr Sturridge always kept the complex cases trying.
And though she defied his advice and had a child,
she went back promptly for more ops and vicissitudes.
That was her life, an honouring of ironies.
But the dingy pill's leaf litter whirl stays with me.
The flurry of that afternoon handed down a curious sense
that this minute, and all of mine, and all of my son's,
run concurrently with a flower stall opening for evening visiting,
a brothy supper infusing the wards, while the West End lights up, as if for a party.
Inviting myself-to-be into theatre late in the day,
my eyes can't hold the animated second hand,
a sparkling red needle rushing a bitter finale.
But to turn to the surgeon for aid or a cue —
is to find him facing down a terror of his own invention:
ice creaking as a brain might. An ordinary bath is filling with water.
There's nothing for it but to drag myself home
and reinhabit the succeeding decades.
Here's the gas fire storming in the sitting room each summer,
we're happily gasping for oxygen,
as she perches on the plushless sofa, droll, marmoreal.
Now I realise, we are always almost out of time…
just how much she dreaded the cold.
Everything else being bearable.
Catherine Ormell
What Falls Behind
The first sign was a fluted bead, ruby, glass, mixed in
the dustpan with shards of translucent cat claw, magnolia
petals, ash from a fireplace long ago stoppered and sealed.
I'd like to say we pressed at mantel seams, shuffled
closets to see what needed repair, but — though we knew
this wasn't debris from our living — we lowered the lights
and slept. As if alone. The new moon sometimes lets dark be
what it means to be, and you ask who it is I've seen,
man, or woman, an age, what room. I tell you it's a ripple
of the mirror, hardly a form at all, more a sense of rushing
then absence. I tell you someone's been here, is here now.
We hear her knock from behind the wall, she's up
late again, dancing the Charleston with hands loose
as tassels, gleeful, grinding the soles of her shoes into the beam
that supports us, supports everything we think we know.
Alison Adair
Kitchen Poem
Dad is learning to sharpen the knives
from YouTube, fulfilling a long-held ambition.
It has taken him by surprise;
this is the first time he's looked there for anything.
Later he will show me
just how many layers of skin
he can pare from a cherry tomato.
I find footling things to do with my hands;
he replied to my question, yes he's okay,
and politely declined my suggestion
of whisky, so this is all I can offer.
The shadow of the shadow on my father's
father's lung is not mentioned aloud because
breathing says everything for us. He has
an old oil stone somewhere. He is utterly absorbed.
Anthony Adler
Moth
Drawing the curtains dislodged it.
Now it bothers me at night.
The whirr of its wings.
Its little thermals bristling
the stubble on my face.
The way it nuzzles into dreams.
I see it with my eyes closed.
Its floury wings dibble
powdery clouds all over the place
and now it speaks to me as well.
I never catch its question
but I recognise the voice.
Your last words when you fell asleep
and I got up and drew the curtains back.
David J Costello
'Hope'
G.F.Watts
The room
was dark even
with the light on.
The wallpaper was
brown. The bed was a
mountain you had to climb
onto. Half way down was a stone
hot water bottle. Auntie had been old
before you were born. There was an alcove
covered with a curtain. There was a picture
hanging from a cord, of a woman carrying
her own head. Behind it the wallpaper
was thick mould. A pigeon on the roof
sang sorry, sorry. The searchlight
sweeping the ceiling was a car.
Under the bed was big
enough for a body.
There was no
body. There
was nobody.
Julia Deakin
*Half-Barrel
On this summer's day
Mr Houlihan comes to the pump
At the foot of the hill with
His horse and cart to fill
A half-barrel for his cattle
In the quarry field.
The draught mare hangs
One hip like a model
And stares at the road while
We pump for fun until
The half-barrel is full.
Then we climb up
And Mr Houlihan
Lights his pipe,
And the mare leans forward
And stamps her feet
All the way up hill – going
Down the other side she
Sticks her big bum as a brake
To the back of the cart
While her iron shoes slip
And catch, slip and catch,
Making the water splash
Over the jagged edge…
There, the memory peters out.
One day someone came
And dismantled the pump.
And Mr Houlihan died.
The horse and cart, of course,
Are gone, long gone.
And the half-barrel-
I like to think it still exists,
Forgotten in weeds behind
Some shed, time sucking on it
Still, like a big hard sweet.
Tom Dowling
Birthday Cake
Alone is a best guess, the time not auspicious or well-chosen.
Assume nothing about a bed.
It might be dawn, someone else's day, pre-claimed.
A tree in a northerly scratching at a window is not a narrative
it necessarily recognises, the moon is not clear, nor a crescent.
It could be quiet to the point of shut-off, at home,
double-glazed with pale faces, a chink of familial tea-cups.
It can find me across the flotsam of drugs that keep me awake,
in time, or to rhythm, or even half sat-up:
an uncancelled standing order, a Web-bought thing I mean to send back –
it catches me here, now, in the middle of stuff,
rarely in the middle of a longed-for kiss or sunny beer garden,
winning a race on an unfavoured horse
or surprised by cake on my eighth birthday, freckled knees:
sand-flies warming on the canvas of a fly-sheet,
a tent-zip stuck like a feather in gorse,
the beach widening in the imagination.
Ken Evans
Night Garden
All day she's under earthy waters,
snorkelling through plants.
At night she surfaces, swims on her back,
face to face with stars;
her lungfuls filled with silences,
scuttlings, scrapings, not a word,
intent on breathing in and out.
She shoots, buds, firks and racinates;
she fishes in the lake below,
she fathoms nutrients, old gardens,
former lives, ancestral sleepers
broken down to adipose the earth,
roots and twistings of her DNA.
Then the dog and vixen come,
side by side; one sits and one lies down;
posing together, Gainsborough-like,
confidently poised, as if proprietors.
Their cries, like rusted hinges,
bite the metal night; a door
gets opened, screaming on the other side,
terrible screaming, taken away,
suddenly snapped off.
Her blue shapes move in moonlight,
wearing sables, silvers in her fur.
She listens to the night-trains, to the aquifers
like blood-noise in her ear.
The lawn next morning tippexed
with mistakes—small breast-feathers,
blown away by noon;
the garden washing her hands.
Her cultivars are tinted
spectacles she's getting used to,
always sliding down her nose.
Jim Friedman
h3.After You Died
we walked home from the hospital
to get some air. The Mussel Ebb smelt
of crabmeat and engine oil
and the leathery sweetness of seaweed.
You wouldn't have been able
to smell it anyhow.
We walked through Woolworths closing down sale, out
onto Shore Street, and our passage through
the grim emporium reminded me
of that text people choose for funerals
about a sparrow flying through a hall at night;
all the while the numb clatter
of small plastic hangers as bargain-hunters
hooked down the heart-speckled Ladybird frocks.
You wouldn't have believed it.
Your whole life Woolworths had been there.
We saw your death from a distance at the end of the cul-de-sac
without knowing what it was, a white light
on at noon on your garage – a warning easy to miss
as the lightless twinkle off to one side in some glaucoma test.
That evening I watched EastEnders for you.
Somebody died. Already I can't remember who
or how. You didn't miss much, Mum.
The next day I went to the Home
to try and tell Dad about you. Impossible to say
how much he understood. He knew from my tone
that the right response was 'Aahh'.
This didn't mean he didn't feel
his separation from you with his whole being.
I know he did.
You may not have understood this.
Susan E. Holland
Nobody in My Family
                               has sailed the Atlantic
— not single-handed, not as anyone's crew —
though, if you drop in when the aunts come to tea,
you'll hear my two sisters brag, how they
can each read stars and navigation charts and
before long Anni (the eldest) is on about
that freak wave south of The Azores,
how she and Joni (the youngest) reefed the sails
as Father grabbed the boom and only
his firm grip saved them, that and Mother
on the rudder, as they turned into the wind
to cut right through the face of the wave —
I can see it still, Joni proclaims
as she mimes the boat slicing the thirty footer
until mother butts in with tips for cooking
in a confined space or how to remove
stains with saltwater or how she taught herself
to gut swordfish with a potato peeler
and I'm right there in the middle of them
yet, you'll notice, they never include me
in these tales of maritime adventure,
though they'd tell you I was fibbing but,
honestly, it's as if they've abandoned me,
stranded on the dock they didn't sail from.
Pamela Johnson
You Know You Will Never Ride a Bike Again
You know you will never ride a bike again.
Where would it come from,
there are no convenient children,
neighbours or a boy who visits,
someone you could ask, could I
have a spin? And feel your knees again
on the upward stroke and laughter
as you wobble away.
Perhaps there is a place — the way they bring
in dogs to pat and whisper forgotten secrets,
the way lips contact with fur and know right away
what can never be forgotten —
a place for bikes and bike stands,
where you are lifted and steadied
and a man runs along beside and almost cries
when you are doing it on your own.
Wes Lee
American Shunting
Late at night, out where the street is a hard
compression of the dust, big diesels roll
from cone to downcast cone of light. They rumble,
gargle, fart among the endless yards.
What could they need to do through these
long small hours, grinding at each point,
grunting infrasound like crocodiles — great
slaty males, more rock than steel or grease?
They batter and abandon empty cars
over and over, they never sleep,
blurting their lack of business to the deep,
coupling and uncoupling affairs
to the insomnia where they belong,
so old, so sore, so carrying on.
Ian McEwen
May Fair
I found the remains of the fair
mulching in a paper bag
amongst the dead-headed roses.
It still shone — like height
with blue — blousey with the laughter
of girls being won.
A howl of ghost- train
blew from the bag
when I shook it
and darkened the air
like the back end of the year
until the wind took it.
O year —
how everything comes at once in May.
If I could just take Lilac with me
into winter; a handful of birds
and a few dark corners
for the ghost-train to run through.
Clive McWilliam
Back-Story
Pre-occupied, I guess, we left the bulbs
to winter on a low garden table.
One morning, the next March, I noticed
a single daffodil had bloomed up through
the opening of the bag; looking more closely
I found a stew of barely-opened buds
beneath the plastic. And I stood
some moments, gob-smacked by the flower —
or rather its own dread-sense, as it grew
and loosened, of fundamental wrongness,
that must have nearly done for it,
for all the brass neck, all the yelling yellow.
Richard Meier
Bird Belling
There's a bird belling in the eaves of the house.
We look up at the ceiling because for some reason
it sounds like it's in the centre of the room —
like a huge tweeting light bulb —
and we're surprised not to see it.
At the same time I'm wondering how many people
will find themselves writing about the woman
who accidentally joined a search party for herself.
And should I give a kidney to Hugo Williams?
I can't remember if I'm blood type O…
And there is a risk.
I can't take risks with two small children.
The boys saw the dog kill a baby rabbit
out in the woods this afternoon.
I tried to encourage B to show some emotion —
Didn't it make you sad seeing that poor tiny fluffly little thing…?
But no. He's a bit like Matisse in his final years
with his bright strips of paper and his scissors.
I am his Lydia, sweeping up after him,
preparing his crackers and cheese.
His little brother calls out, 'Mummy, Mummy, I'm crying!'
to which I reply, 'I have no idea where I am.'
Rebecca O'Connor
You Wouldn't Credit It
that the span of time between the morning in our bush kitchen
when we looked everywhere for the opened safety pin
Jennie might have swallowed, that maybe she'd gathered up
together with cake crumbs which had fallen on to the table top
or somehow while she'd licked sweet dough off her fingers
as she'd talked and talked to Mum about little black dresses
and tennis parties (while I sat on the veranda rubbing castor oil
into the old leather of a stock saddle or scrubbing a surcingle),
with Dad away in the Commer until sunset checking the bores,
with both the Humber and the pedal wireless out of action
and with Boulia hospital all of 50 miles away – that
the span of time between then and this snowy London evening
as we sit on hard chairs in Lewisham A&E, Tom on my lap
after jamming a Lego light sabre into his left ear, is only
about one thirty-fourth of the length of time between this day
and when maybe Jesus was born, De rerum natura was written
and the Pantheon was built. We did find the pin — caught up
in a mop-head Patch was worrying down behind the oven.
Diana Pooley
He Slept Under a Tree Among Horses
They wait in the branched dusk,
grazing and unguarded over the hidden
deluge of roots, with their humble beauty
and their many old friends, the flies.
They've been here a long time,
know the place well, and pay you
no attention as you arrive and settle,
which feels a kind of love.
All day and for long before
you've been walking from battle,
or hunger, or the common crime
of living and forgetting;
so beneath that summer oak
into which the day is draining,
on the grass sheared tight
by their patience, you lie down.
All night in that unexpected hospital
you sleep among them, huge nurses,
their shapes dark earth arcs under the stars.
At times you hear the splash
of their piss, or a farm dog's call,
distant and near like an unborn child's,
while away from the tree, out in the moonlight,
the fields are a lake in a story.
And nothing disturbs you
there in the time before cities.
But at dawn, so the world can spin
and you can carry on,
your path marked clear
between the power lines,
the horses and the tree pretend again to be
just what they seem — horses, a tree.
Robert Powell
Death Longs for Its Own Garden
where it can lean, tooth-picking, against a rusted pole,
where it can seem, all at once, the rose and the thorn,
the rope and the branch, a rotting tomato sac,
where it can heap the lucent glazing of an all-night hoar,
where it can sod the soil without warning what's beneath,
where it can bleed the stems of the ground's dicentra
into anguished leaves, like unities of the mind's division.
It longs for the pick and dibble, the hose and shed,
where it can lie in sleep, nose-snoring flies above a skull,
where it can lay the mallow's nest in dried dove wings,
where it can store the moon's shadow, the sun's ray,
breeding future in a seed, the past in a mandrake,
where it can bleed the endangered prey of centuries
like a memory without witness, or shame.
Death longs to grow without limits, without strain,
where it can gloat on the corpus of angst, the corpse
of a planet, segregating space, the dark from light
into colonies like crystal chips of ice, glowing in frost,
where it can curse the galaxy, its star-stubborn nights.
Death is a tired soul, gravely ill, spading a garden
for any discovery of gain, any recovery of loss.
James Ragan
The Last Darling
Rare as an Orange Footman or a Silver-Studded Blue,
a darling fluttered out from his mouth: darling…
Unlike my darling, or those that used to utter
through openings of doors, this specimen was lofty,
stranger than before, and she clapped it to her breast;
her hands, handkerchiefs, unfolding.
Tiffany Anne Tondut
Berry
My grandmother looked down
on women who called them berries —
threw strained upward glances
as we scoured the shops for one
the day my granddad died.
A funeral without a hat?!
In her mind all ninety years of her
were still wrapped
in that slender body
from the photo on Howth head;
A spill of curls falling
from the beret she wore
at just the right angle,
that made the hat
speak volumes,
suggesting, as it did,
one raised eyebrow.
And in the orange light
of the haberdashers,
she pronounced the word
as if holding a single snowflake
in her mouth: A ber- et,
do you have a ber- et,
while the shopkeeper rifled
through a sale-item basket,
until, miraculously, it appeared:
cashmere, fledgling-soft
to perch on her white hair
like some dark protecting bird —
there's your berry.
And on this day, she allows
the slip to go unmentioned
as we fuss about her,
and another language
that once sounded falls silent.
Jessica Traynor
Cuthbert
Up to his neck in the icy deep
Cuthbert prays.
What does he pray for all night in the sickening, groaning gloop?
His head is a small white stone
above the vastness of the Northumberland sea.
It wraps him and snaps him, his body is frozen cuts of meat,
his internal organs frosted and salted.
He cannot feel his heart.
It has a tiny tick ticking like a fob watch in a vast flapping black pocket,
Its thin silver wire is almost rusted through.
His mind is an empty shell.
Is God in there?
Does God creep in like a hermit crab and take up residence?
Does Cuthbert pray for us?
Are his eyes open or shut as the first drops of dawn
spill into his lap like milk,
as the sky pales and shivers and mottles like his skin inside
that sagging soaking bag?
As the sun totters to the window slit and gazes down feebly
at Cuthbert all alone in the grizzled greying sea.
Only then does Cuthbert begin to move,
the slow agonising clumber to the rickety shore.
He is bits and pieces.
He is glass and timber.
He is glisten and bulk.
He is other.
On his knees on the plain sand
Cuthbert prays.
A small group of otters gather and warm his feet with their faint fishy breath.
Louise Warren