The Troubadour Poetry Prize
Troubadour International Poetry Prize 2017

judged by imtiaz dharker & michael symmons roberts
prizes: 1st £2,000; 2nd £1,000; 3rd £500
plus with thanks to leading poetry magazines & troubadour coffee-house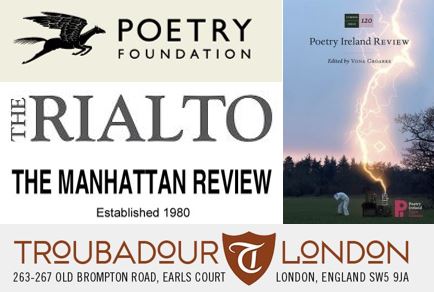 plus, for all prize-winning poets, an invitation to read at coffee-house poetry on prize night, mon 27 nov 2017, with imtiaz dharker & michael symmons roberts
submit via e-mail or post by mon 16 oct 2017
(2017 prize now closed: check out 2017 winning poems & judges' reports on our poems page)
judges
Imtiaz Dharker, poet (visual artist & prizewinning film-maker) was born in Pakistan, grew up in Glasgow, & now divides her time between London, Wales & India. She is a Fellow of the Royal Society of Literature, is a prescribed poet for

GCSE

English, has appeared on Desert Island Discs, & has been awarded both the Society of Authors' Cholomondeley Prize & the Queen's Gold Medal for Poetry. Latest of her six poetry collections is Over the Moon (Bloodaxe, 2014).
Michael Symmons Roberts has also published 6 collections of poetry, all with Cape, including Drysalter (2013) & is Professor of Poetry at Manchester Metropolitan University. He has won the Forward Prize, Costa Book Award & Whitbread Prize for Poetry. Born in Preston, Lancs, he grew up in Newbury, Berks, &, in addition to his much-awarded poetry, has written & presented radio documentaries & dramas, & has written novels, libretti, & texts for oratorios & song cycles.
judges will read all poems submitted
rules
Poems: Poems may be submitted from any country & must be in English, must each be no longer than 45 lines, must fit on one A4 or US-Letter-size page, must show title & poem only, must not show poet's name, must be the original work of the entrant (no translations) & must not have been previously broadcast or published in print or online; no text alterations accepted after submission; no limit on number of poems or separate submissions from any entrant; failure to comply with all rules results in disqualification.
Fees: £6/€7/$7.50 for 1st poem & £4/€5/$5 for each subsequent poem in same submission (Sterling/Euro/US-Dollars only); payment via PayPal (see options at bottom of page, account not required) OR cheque/postal-order payable to Coffee-House Poetry.
By Post: No entry form required; submit two copies of each poem; include following details on a separate page: Poet's Name & Address, Phone No, E-Mail Address (if available), List of Titles, No. of Poems, Total Fees, &

EITHER

PayPal Receipt No. OR cheque/postal-order enclosed; post to Troubadour International Poetry Prize, Coffee-House Poetry, PO Box 16210,

LONDON

W4 1ZP; no staples, no Special Delivery, Recorded Delivery or Registered Post; entries are not returned.
By E-mail: No entry form required; e-mail poems to CoffPoetry@aol.com as attachments (.doc, .docx, .pdf, .rtf only); do not send to info@coffeehousepoetry.org; include following details in e-mail: Poet's Name & Address, Phone No, List of Titles, No. of Poems, Total Fees, &

EITHER

PayPal Receipt No. OR send cheque/postal-order by post.
Timeline: E-mail submissions by midnight (local time) on Mon 16 Oct 2017; postal entries postmarked on or before Mon 16 Oct 2017. Prize-winners only will be contacted individually in week commencing Mon 20 Nov 2017. Prize-giving will take place on Mon 27 Nov 2017 at Coffee-House Poetry at the Troubadour in Earls Court, London.
Acknowledgement/Results: E-mail entries acknowledged within 14 days of receipt of both entry & payment; postal entrants may include stamped, addressed postcard or envelope marked Acknowledgement &/or stamped, addressed envelope marked Results; results will be posted on website (& mailed to all postal entrants who included a Results envelope) after Mon 27 Nov 2017; no correspondence will be entered into.
E-mail address: By including e-mail address you agree to receiving e-mails regarding annual Troubadour International Poetry Prize. You will not automatically receive regular e-mails regarding Coffee-House Poetry readings & classes unless specifically requested.
Our secure online payments are handled by PayPal.
You don't need a PayPal account; all major credit cards will be accepted.
To identify your payment:
Please note the Receipt No that PayPal gives you on–screen after completing your payment, and in your payment–receipt e–mail, and include it in your e–mail submission of poems (or on your postal submission).
Additionally, only if your PayPal name differs from the Poet's Name, please include the PayPal name on your e–mail or postal submission. No need to add anything in the 'Note to Seller' box.
Our PayPal options allow payment for up to 10 poems at a time. If making a second or subsequent payment, whether immediately or at a later date, there is still no need to add anything in the 'Note to Seller' box.
If you are unsure about how to use PayPal, we have provided a page of illustrated instructions.