Poetry Readings at The Troubadour: 263-267 Old Brompton Road, London SW5
readings - may-jul 2013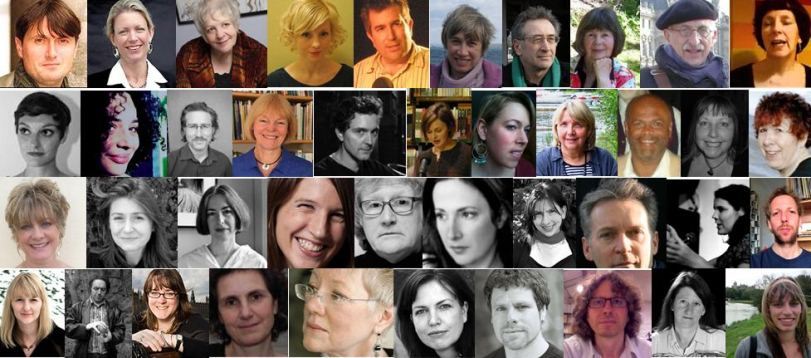 (poets, jan-jul 2013)
mondays 8-10 pm, £8 (concs. £7)
mon 20 may: transatlantic signals: us &uk poets featuring margot farrington, claire dyer, joshua weiner, kim moore, kathryn maris, janet rogerson, linda gregerson & sarah jackson
mon 3 jun: simon armitage, frieda hughes, paul stephenson, huw warren & stuart silver in what we should have said: an entertaining, enlightening, innovative & unpredictable spoken-word shindig
mon 17 jun: a wnaed yng nghymru / made in wales with phil bowen, marianne burton, rebecca perry, robert seatter, judy brown, graham clifford, rhian edwards & kathryn simmonds, introduced by amy wack (ed.)
mon 1 jul: magma #56 launch night with special guest, david morley
mon 15 jul: simply red! themed end-of-season poetry-party
programme details
mon 20 may: transatlantic signals: us &uk poets featuring margot farrington, claire dyer, joshua weiner, kim moore, kathryn maris, janet rogerson, linda gregerson & sarah jackson
A change to the usual seasonal kick-off format — new & established voices — this evening's programme offers a rare chance to hear what's now & happening either side of the Atlantic with—
NYC

-based literature, visual-arts & theatre organiser, activist & reviewer Margot Farrington — 2nd collection Flares and Fathoms, Bright Hill Press, NY);
Claire Dyer — debut poetry collection, Eleven Rooms, (Two Rivers, 2013) — also has a novel, What If, due from Quercus (October 2013);
Joshua Weiner who holds the Amy Lowell Travelling Scholarship & has edited At the Barriers (on Thom Gunn) — third collection, The Figure of a Man Being Swallowed by a Fish (Chicago, 2013);
Kim Moore, a peripatetic brass teacher in Cumbria & a 2011 Eric Gregory & Geoffrey Dearmer award winner; If We Could Speak Like Wolves was a 2012 Poetry Business winner;
Kathryn Maris from

NYC

, 2nd collection, God Loves You (Seren, 2013) — her poems appear in Best British Poets 2012 & Oxford Poets Anthology;
Janet Rogerson who lives & works in the North-West of England; A Bad Influence Girl (Rialto, 2012) is her debut collection;
Linda Gregerson's Magnetic North was a 2007

NBA

finalist; she teaches at Univ. of Michigan & divides her time between London & Ann Arbor;
Sarah Jackson's first collection Pelt (Bloodaxe, 2012) was longlisted for the Guardian First Book Award & her pamphlet, Milk, was shortlisted for the Michael Marks Award.
mon 3 jun: simon armitage, frieda hughes, paul stephenson, huw warren & stuart silver in what we should have said: an entertaining, enlightening, innovative & unpredictable spoken-word shindig
A fascinating & radically different way of experiencing music & the spoken word —
award-winning poet & dramatist Simon Armitage has published 12 mainstream collections — in addition to small-press pamphlets — since Zoom! in 1989, the latest of which is Seeing Stars (Faber, 2010);
poet & painter Frieda Hughes lived in Australia for many years; she has had numerous exhibitions, has published children's fiction & five poetry collections — latest Stonepicker and the Book of Mirrors (Bloodaxe, 2009);
Paul Stephenson won 2nd prize in the Troubadour International Poetry Prize 2012; his poems in Adventures in Form (Penned in the Margins, 2012) have been singled out for praise by the

TLS

;
Huw Warren's thoughtful & exploratory musical creations, fusions & collaborations have long been a gift to the numerous artists & writers with whom he's worked;
to which magical, musical, metrical mix writer/perfomer/director Stuart Silver brings his own inimitable brand of wit & wisdom, of insight & inventive intervention…
plus, before the break, four new voices…
Edward Doegar (grew up in Hull, lives in West London) selected for The Complete Works 2 run by Spread The Word, poems in magazines including The Moth, Poetry Review…
Mona Arshi (b. Hounslow, lives in West London) human rights lawyer, studied poetry/creative-writing at

UEA

, published in Magma & Poetry Review, won first prize in 2012 Magma Poetry Competition
Richard Scott (b. Wimbledon, lives in Hackney) teacher, musician, broadcaster, studied at Faber Academy & Goldsmiths College, won Wasafiri New Writing Prize, published in Poetry Review, Poetry London, Wasafiri…
Victoria Grigg (b. Hillingdon, lives in Hackney) English tutor/examiner, studied at Sheffield & Birkbeck, short fiction in Mechanics' Institute Review 9, finalist in 2011 Cinnamon Press Land & Travel competition.
mon 17 jun: a wnaed yng nghymru /made in wales with phil bowen, marianne burton, rebecca perry, robert seatter, judy brown, graham clifford, rhian edwards & kathryn simmonds
New poets, new collections, Poetry Wales Purple Moose pamphlet-winners & a new 'Beatles' anthology from Wales-based Seren Books, introduced by Seren editor, Amy Wack —
Phil Bowen will read from Newspaper Taxis: Poetry After the Beatles which he's co-edited; with poems by McGough, Armitage, Duffy, Rumens, Ginsberg…
Rebecca Perry lives in London; her Purple Moose pamphlet little armoured was a

PBS

choice;
Robert Seatter's third collection is Writing King Kong (2012) —winner/commended in National, Forward & Poetry London competitions;
She Inserts the Key is the forthcoming Seren debut from former lawyer/corporate-banker Marianne Burton;
Assistant Head-Teacher Graham Clifford won the 2010 Purple Moose pamphlet prize with Welcome Back to the Country;
Wordsworth Trust poet-in-residence, Judy Brown — Loudness (Seren, 2011) — won the Manchester Poetry Prize (2010) & the Poetry London Competition (2009);
Clueless Dogs (Seren, 2008) is Rhian Edwards' first collection; her pamphlet Parade the Fib was a

PBS

choice;
Kathryn Simmonds' Sundays at the Skin Laundrette won the Forward First Collection Prize — her next is The Weather in the Blood (Seren 2013).
mon 1 jul: magma #56 launch night with special guest, david morley
With guest editors Julia Bird & Helen Mort, magma #56's sure to dazzle, delight, & deliver (as every magma does) an evening of edgy, engaging, eclecticism. to the invariably capacity Coffee-House crowd: hear what's going on in the metropolis's major-est mag, discover the gems in the current issue (theme: 'clothes: workwear to haute couture',) meet the members of the magma team, discover new 'showcase' poets & listen to special guest David Morley, author of nine poetry collections & editor of six anthologies of new fiction and poetry. His next collection of poems is The Gypsy and the Poet, (Carcanet, 2013) with a New & Selected Poems due in 2014.
mon 15 jul: simply red! themed end-of-season poetry-party
Happiness writes white, they say, but love, violence, fire, danger, wine, carnival, red-blooded passions, fury, and ruddy good cheer all call on shades from vermillion to crimson for their special effects: think of Red Riding Hood, the red, red robin, O'Casey's Red Roses for Me, Poe's Masque of the Red Death, Warren Beatty's Reds, Mark Haddon's The Red House, Hawthorne's The Scarlet Letter, Conan-Doyle's Study in Scarlet, H.E. Bates' The Scarlet Sword & Stephen Crane's The Red Badge of Courage.
In poetic terms there's Tennyson's now sleeps the crimson petal, William Carlos Williams' absolute dependence upon a red wheelbarrow, Yeats' blood dimmed tide (and Red Hanrahan), Sarah Corbett's Red Wardrobe, Louise Glück's The Red Poppy, and Sharon Olds' visceral He is wearing red/ like the inside of the body/ exposed ('On the Subway').
Come & listen to invited guest poets' favourite poems, and their own poems, red in tooth and claw… and win vin rouge (ou vin blanc) in our come-on-you-reds not-too-literary prize quiz for the well-red!