Poetry Readings at The Troubadour: 263-267 Old Brompton Road, London SW5
readings - oct-dec 2013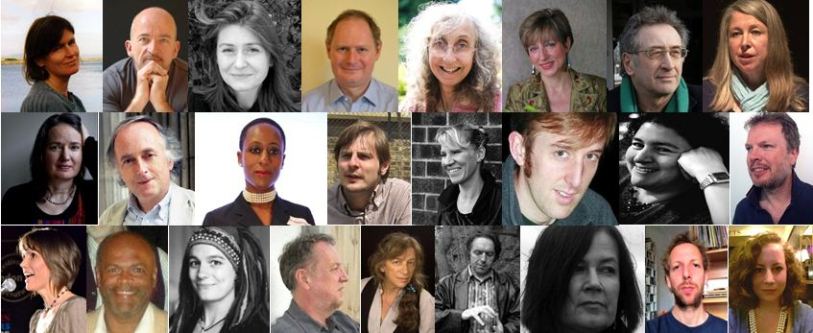 (photo: troubadour poets, oct-dec 2013)
mondays 8-10 pm, £8 (concs. £7)
mon 7 oct: an evening with mark doty: mark doty reading & in-conversation, plus singer/songwriter bernadette reed
mon 21 oct: cornucopia: an autumn harvest: hannah lowe, fiona moore, robert peake, hilda sheehan, alison brackenbury, matt bryden, angela france & kate white with henry fajemirokun
mon 4 nov: jo shapcott, christopher reid, richard douglas pennant, huw warren & stuart silver in what we should have said: an entertaining, enlightening, innovative & unpredictable spoken-word shindig… plus, before the break, abigail parry, jill abram, roderic vincent & daisy behagg
mon 18 nov: magma #57 launch night with editors ian mcewen & hannah lowe — special guests chris mccabe & patience agbabi
mon 2 dec: seventh annual troubadour international poetry prize night: george szirtes & deryn rees-jones & 2013 prizewinners
mon 16 dec: stormy weather… themed end-of-season poetry-party
programme details
mon 7 oct: an evening with mark doty: mark doty reading & in-conversation, plus singer/songwriter bernadette reed
A welcome back to Coffee-House Poetry for US poet Mark Doty, Professor/Writer-in-Residence at Rutgers University, winner of (among others) the National Book Award for Poetry & the T.S. Eliot Prize & author of The Art of Description, a handbook for writers, four prose books including Firebird & Dog Years, & eight books of poetry including School of the Arts & Theories & Apparitions (Cape, 2008).
… including, after the break Mark, in-conversation & Q&A, with poet & critic C.L. Dallat
… plus songs from jazz/acoustic singer/songwriter Bernadette Reed whose 2009 album Walking on Water explores sound, form and the silent radiant emptiness that permeates creation (with guitarist Les Davidson)
… advance booking recommended
mon 21 oct: cornucopia: an autumn harvest: hannah lowe, fiona moore, robert peake, hilda sheehan, alison brackenbury, matt bryden, angela france & kate white with henry fajemirokun
A seasonal gathering-in of the latest crop of new poets & poets with new collections featuring:
Hannah Lowe — first collection Chick (Bloodaxe, 2012), shortlisted for Forward/Felix Dennis Prize — lives in London
poetry-blogger Fiona Moore lives in Greenwich: first pamphlet The Only Reason for Time (HappenStance, 2013)
US-born Robert Peake coordinates Transatlantic Poetry on Air — latest pamphlet The Silence Teacher (Salzburg, 2013)
Hilda Sheehan works for Swindon Artswords & Swindon Festival of Poetry, co-edits Domestic Cherry, first collection, The Night My Sister Went to Hollywood (Cultured Llama, 2013)
Alison Brackenbury (b. Lincolnshire & lives in Gloucestershire) has published 9 collections including a 'selected' (1991) & Then, (Carcanet, 2013)
poet/translator Matt Bryden has taught in Tuscany, Poland & Czech Republic — first full collection is Boxing the Compass (Templar, 2013)
Angela France is features editor of Iota and runs Cheltenham's BuzzWords poetry café – her books include Lessons in Mallemaroking, & Hide (Nine Arches, 2013)
Poetry Society Membership-Assistant Kate White lives in Islington & won the inaugural Pighog/Poetry School Prize with The Old Madness (2013) &
plus singer/guitarist Henry Fajemirokun
mon 4 nov: jo shapcott, chrsitopher reid, richard douglas pennant, huw warren & stuart silver in what we should have said: an entertaining, enlightening, innovative & unpredictable spoken-word shindig … plus, before the break, abigail parry, jill abram, roderic vincent & daisy behagg
Experience your poetry impromptu, as leading poets catch ideas from the ether & respond to each other's thoughts & themes, to philosophical and philharmonic inventions & interventions…
Jo Shapcott teaches at Royal Holloway & has won Forward & Commonwealth Prizes, Costa & Colomondeley Awards & the National Poetry Competition, twice, featured in Penguin New Poets & Bloodaxe's Poetry Quartets & published 6 collections including a 'selected' & Of Mutability (Faber, 2010)
poet, essayist & cartoonist Christopher Reid is a former Faber poetry editor: his 15 books include Selected Poems (2011), A Scattering, winner of the 2009 Costa Book Award and The Song of Lunch, adapted for

BBC

TV with Alan Rickman & Emma Thompson
Richard Douglas Pennant divides his time and his poetic inspiration between Cyprus and his native North Wales – collections include The Alabaster Jar (Ogwen, 2008) and Old Stones New Tales (CD, Cegin, 2007).
plus philosophical interpolations & epigrammatic excursions from Perrier-Award winning writer/perfomer/director Stuart Silver
and harmonic counterpoint provided by Huw Warren's rhythmic grooves & eclectically melodic inspiration
… plus, before the break —
Abigail Parry, lives in London where she works as a toymaker; her work was shortlisted for the 2012 Manchester Poetry Prize
Jill Abram is Director of Malika's Poetry Kitchen, was inaugural winner of Poetry Pulse Prize & has been published in Loose Muse anthologies
Roderic Vincent is a chartered psychologist, has been shortlisted for Aesthetica, Live Canon & Bridport & has poems in the Iron Anthology of Humorous Verse
Daisy Behagg grew up near Brighton & lives in Bristol — she was a runner-up in the 2012 Edwin Morgan & Bridport prizes.
mon 18 nov: magma #57 launch night with editors ian mcewen & hannah lowe — special guests patience agbabi & chris mccabe
A mega-moment in the history of the metropolis' main mag, as Magma #57 launches with more than 57 varieties of poetry, on-the edge, urban, erudite, imaginative, imagist, esoteric, allusive, even over-the-edge — with a special emphasis in this issue on The Shape of the Poem plus 'showcase', 'presiding spirits', reviews &c. Latest guest editors Hannah Lowe & Ian McEwen introduce a cast of contributors and special guests including Patience Agbabi (Bloodshot Monochrome , Canongate 2008) who is currently reimagining Chaucer's pilgrims on a Routemaster bus & Chris McCabe (b. Liverpool) whose Salt collections include Zeppelins and The Restructure (2012).
mon 2 dec: seventh annual troubadour international poetry prize night: george szirtes & deryn rees-jones & 2013 prizewinners
With submissions from all around the world, the annual Troubadour International Poetry Prize's success is inseparable from the venue's longstanding association with live literature, and from the significance of Troubadour Prize Night, the poetry-calendar's mustn't-miss autumn social gathering. Come along to hear twenty-three prizewinning poets, discover who's won the £2,500 Cegin-sponsored top prize, and listen to fine poetry readings by the major poets who've been our 2013 prize judges: George Szirtes (b. Budapest) latest collection is The Burning of the Books and Other Poems (Bloodaxe, 2009) — his numerous awards include the Gold Star of the Hungarian Republic, & the TS Eliot Prize; & Deryn Rees-Jones (b. Liverpool) who spent much of her childhood in North Wales — chosen as a PBS Next Generation poet in 2004, she has won an Eric Gregory Award & her latest collection, Burying the Wren (Seren) was shortlisted for the 2012 T.S. Eliot Prize.
mon 16 dec: stormy weather… themed end-of-season poetry-party
Stormy Weather, Billie Holiday sang, 'when he went away…' as raging weather so often echoes emotional ups & downs, in Ted Hughes' 'wind stampeding the fields' (Wind), in Sylvia Plath's Insolent Storm Strikes at the Skull, in Adrienne Rich's Storm Warnings…
Seamus Heaney marvels at the 'big soft buffettings' that 'catch the heart off guard and blow it open' (Postscript) & Paul Simon notes, on losing love, 'Everybody sees the wind blow/ everybody sees you're blown apart' (Graceland) though Dorothy Parker sagely observes, 'they sicken of the calm, who only know the storm…'
But unmetaphorical tempests have their own dramatic roles to play, not just in the eponymous Shakespeare play, but in Milton's Lycidas & Hopkins' Wreck of the Deutschland. Elizabeth Bishop thought 'of the storm roaming the sky uneasily' & Emily Dickinson admits to 'GLEE!' that 'the great storm is over' even though forty or so didn't survive that particular tumult…
Come along & allow yourself to be swept off your feet as invited guest poets whip up a whirlwind with their favourite poems of emotional turmoil & tempestuous moments… & try our not-too-meteorological prize quiz!
Archive
readings – may-jul 2013
mon 20 may: transatlantic signals: us & uk poets featuring margot farrington, claire dyer, joshua weiner, kim moore, kathryn maris, janet rogerson, linda gregerson & sarah jackson
mon 3 jun: simon armitage, frieda hughes, paul stephenson, huw warren & stuart silver in what we should have said: an entertaining, enlightening, innovative & unpredictable spoken-word shindig
mon 17 jun: a wnaed yng nghymru / made in wales with phil bowen, marianne burton, rebecca perry, robert seatter, judy brown, graham clifford, rhian edwards & kathryn simmonds, introduced by amy wack (ed.)
mon 1 jul: magma #56 launch night with special guest, david morley
mon 15 jul: simply red! themed end-of-season poetry-party
programme details
mon 20 may: transatlantic signals: us &uk poets featuring margot farrington, claire dyer, joshua weiner, kim moore, kathryn maris, janet rogerson, linda gregerson & sarah jackson
A change to the usual seasonal kick-off format — new & established voices — this evening's programme offers a rare chance to hear what's now & happening either side of the Atlantic with—
NYC

-based literature, visual-arts & theatre organiser, activist & reviewer Margot Farrington — 2nd collection Flares and Fathoms, Bright Hill Press, NY);
Claire Dyer — debut poetry collection, Eleven Rooms, (Two Rivers, 2013) — also has a novel, What If, due from Quercus (October 2013);
Joshua Weiner who holds the Amy Lowell Travelling Scholarship & has edited At the Barriers (on Thom Gunn) — third collection, The Figure of a Man Being Swallowed by a Fish (Chicago, 2013);
Kim Moore, a peripatetic brass teacher in Cumbria & a 2011 Eric Gregory & Geoffrey Dearmer award winner; If We Could Speak Like Wolves was a 2012 Poetry Business winner;
Kathryn Maris from

NYC

, 2nd collection, God Loves You (Seren, 2013) — her poems appear in Best British Poets 2012 & Oxford Poets Anthology;
Janet Rogerson who lives & works in the North-West of England; A Bad Influence Girl (Rialto, 2012) is her debut collection;
Linda Gregerson's Magnetic North was a 2007

NBA

finalist; she teaches at Univ. of Michigan & divides her time between London & Ann Arbor;
Sarah Jackson's first collection Pelt (Bloodaxe, 2012) was longlisted for the Guardian First Book Award & her pamphlet, Milk, was shortlisted for the Michael Marks Award.
mon 3 jun: simon armitage, frieda hughes, paul stephenson, huw warren & stuart silver in what we should have said: an entertaining, enlightening, innovative & unpredictable spoken-word shindig
A fascinating & radically different way of experiencing music & the spoken word —
award-winning poet & dramatist Simon Armitage has published 12 mainstream collections — in addition to small-press pamphlets — since Zoom! in 1989, the latest of which is Seeing Stars (Faber, 2010);
poet & painter Frieda Hughes lived in Australia for many years; she has had numerous exhibitions, has published children's fiction & five poetry collections — latest Stonepicker and the Book of Mirrors (Bloodaxe, 2009);
Paul Stephenson won 2nd prize in the Troubadour International Poetry Prize 2012; his poems in Adventures in Form (Penned in the Margins, 2012) have been singled out for praise by the

TLS

;
Huw Warren's thoughtful & exploratory musical creations, fusions & collaborations have long been a gift to the numerous artists & writers with whom he's worked;
to which magical, musical, metrical mix writer/perfomer/director Stuart Silver brings his own inimitable brand of wit & wisdom, of insight & inventive intervention…
plus, before the break, four new voices…
Edward Doegar (grew up in Hull, lives in West London) selected for The Complete Works 2 run by Spread The Word, poems in magazines including The Moth, Poetry Review…
Mona Arshi (b. Hounslow, lives in West London) human rights lawyer, studied poetry/creative-writing at

UEA

, published in Magma & Poetry Review, won first prize in 2012 Magma Poetry Competition
Richard Scott (b. Wimbledon, lives in Hackney) teacher, musician, broadcaster, studied at Faber Academy & Goldsmiths College, won Wasafiri New Writing Prize, published in Poetry Review, Poetry London, Wasafiri…
Victoria Grigg (b. Hillingdon, lives in Hackney) English tutor/examiner, studied at Sheffield & Birkbeck, short fiction in Mechanics' Institute Review 9, finalist in 2011 Cinnamon Press Land & Travel competition.
mon 17 jun: a wnaed yng nghymru /made in wales with phil bowen, marianne burton, rebecca perry, robert seatter, judy brown, graham clifford, rhian edwards & kathryn simmonds
New poets, new collections, Poetry Wales Purple Moose pamphlet-winners & a new 'Beatles' anthology from Wales-based Seren Books, introduced by Seren editor, Amy Wack —
Phil Bowen will read from Newspaper Taxis: Poetry After the Beatles which he's co-edited; with poems by McGough, Armitage, Duffy, Rumens, Ginsberg…
Rebecca Perry lives in London; her Purple Moose pamphlet little armoured was a

PBS

choice;
Robert Seatter's third collection is Writing King Kong (2012) —winner/commended in National, Forward & Poetry London competitions;
She Inserts the Key is the forthcoming Seren debut from former lawyer/corporate-banker Marianne Burton;
Assistant Head-Teacher Graham Clifford won the 2010 Purple Moose pamphlet prize with Welcome Back to the Country;
Wordsworth Trust poet-in-residence, Judy Brown — Loudness (Seren, 2011) — won the Manchester Poetry Prize (2010) & the Poetry London Competition (2009);
Clueless Dogs (Seren, 2008) is Rhian Edwards' first collection; her pamphlet Parade the Fib was a

PBS

choice;
Kathryn Simmonds' Sundays at the Skin Laundrette won the Forward First Collection Prize — her next is The Weather in the Blood (Seren 2013).
mon 1 jul: magma #56 launch night with special guest, david morley
With guest editors Julia Bird & Helen Mort, magma #56's sure to dazzle, delight, & deliver (as every magma does) an evening of edgy, engaging, eclecticism. to the invariably capacity Coffee-House crowd: hear what's going on in the metropolis's major-est mag, discover the gems in the current issue (theme: 'clothes: workwear to haute couture',) meet the members of the magma team, discover new 'showcase' poets & listen to special guests David Morley, author of nine poetry collections & editor of six anthologies of new fiction and poetry. His next collection of poems is The Gypsy and the Poet, (Carcanet, 2013) with a New & Selected Poems due in 2014 and Eric Gregory Award-winner Jack Underwood who teaches at Goldsmiths College and at the Poetry School, co-edits Stop Sharpening Your Knives, & reviews for Poetry London & Poetry Review.
mon 15 jul: simply red! themed end-of-season poetry-party
Happiness writes white, they say, but love, violence, fire, danger, wine, carnival, red-blooded passions, fury, and ruddy good cheer all call on shades from vermillion to crimson for their special effects: think of Red Riding Hood, the red, red robin, O'Casey's Red Roses for Me, Poe's Masque of the Red Death, Warren Beatty's Reds, Mark Haddon's The Red House, Hawthorne's The Scarlet Letter, Conan-Doyle's Study in Scarlet, H.E. Bates' The Scarlet Sword & Stephen Crane's The Red Badge of Courage.
In poetic terms there's Tennyson's now sleeps the crimson petal, William Carlos Williams' absolute dependence upon a red wheelbarrow, Yeats' blood dimmed tide (and Red Hanrahan), Sarah Corbett's Red Wardrobe, Louise Glück's The Red Poppy, and Sharon Olds' visceral He is wearing red/ like the inside of the body/ exposed ('On the Subway').
Come & listen to invited guest poets' favourite poems, and their own poems, red in tooth and claw… and win vin rouge (ou vin blanc) in our come-on-you-reds not-too-literary prize quiz for the well-red!